Retreat Rentals 🌞 Summer 2023

We are opening up cabins for a unique spring/summer season of one and two week retreat rentals in support of urgent repair and infrastructure projects as we prepare to host the non-profit

Salmon Creek Farm Arts

for it's inaugural season in 2024. Read through all of the following information and details to apply below.

One or better yet two weeks is an optimal amount of time, to slow down, become familiar with the place and it's rhythms, to quiet the mind, and really be present on the land. This may be a time to take a step back for some critical distance from daily life, a chance to create something new, or even a pause from projects and productivity altogether. Come with an intention for how you want to 'spend' your time.

We are in Albion, California, on a 33 acre ridge top and south-facing slope, two miles from the coast, and 25 minutes south of the village of Mendocino. Living here under the coastal redwoods is humbling, and SCF is an especially good spot to feel your small place in the big cycle of life on earth. We turn human waste into rich soil, so you should be down with our humanure outhouses, featuring sawdust lined buckets which you empty into a nearby compost pile where, through miraculous alchemy, it is turned into black gold. We collect and treat our own spring water which is gravity fed to all of the cabins from the top of the ridge. We strive for zero waste, shop for minimal/no packaging, compost zealously, and for many reasons SCF is strictly vegetarian (fyi many carnivorous visitors have found it to be a helpful place to experiment with a fully plant-based diet for the first time).

Once on the land we put everyone on a whatsapp party line, where guests can be directly in touch with each other, to announce communal meals, invite each other over, ask for help with something, organize an event, say "hey I'm going to town in case anyone needs anything," etc. On Friday mornings we lead a comprehensive 2 hour tour of the entire property, including visits to all cabins and a hike down to the creek. This also serves as a chance to meet the entire group and a critical / compulsory orientation to life on the land (outhouses, compost, etc)...followed by a potluck dinner that evening at the OK (Outdoor Kitchen). The resident land steward and host will make everyone feel safe, welcome, and at home.

photos by Iwan Baan



SCHEDULE
+ May 1st to September 3rd, 2023.
+ Monday arrivals and Sunday departures.
+ 1 or 2 week stays.

ARRIVALS/DEPARTURES
+ Arrivals exclusively from 3-6:30pm Mondays.
+ Full SCF tour/orientation 10:30am Tuesdays.
+ Located near coastal village of Albion, California (must come with own car).
+ Closest major airport is SFO, 3.5 hrs south.
+ Departures by 11am Sundays.

AMENITIES
+ All cabins have fast wifi, outhouses, kitchens, and hot outdoor showers.
+ Full bedding, blankets, pillows, and towels.
+ Communal outdoor kitchen/dining, triangle dance deck, and hot tub.
+ Hiking trail down to Salmon Creek.


TERMS

+ Full payment to book.

+ Refund (with $150 fee) or re-schedule until 4 weeks before arrival.

+ No refunds or re-scheduling within 4 weeks of arrival.

+ $100 refundable security deposit.

+ No pets or short-term guests of guests.

+ Accessibility issues with all cabins, remote from parking, and reached on foot.

RATES: 1 wk / 2 wk (capacity)

2 Rainbow

: 1725 / 3000 (1 to 3)

3 Dawn

: 2025 / 3500 (1 to 4)

4 Moonlight

: 1000 / 1750 (1 or 2)

5 Walden

: 1000 / 1750 (1 or 2)

6 River

: 1000 / 1750 (1 or 2)

7 Cedar

: 1725 / 3000 (1 to 3)

8 Salmon

: 875 / 1500 (1)



Cabins

There are 15 beds in seven self-sufficient modest homespun guest cabins reached by foot trails across 33 acres of south-facing coastal redwoods. Each occupies a unique secluded nook in our south-facing wooded slope. They were lovingly built, rebuilt, repaired, furnished, and embellished by many hands over the years with scavenged local materials. They are cute, cozy, comfortable, well appointed, and pretty rustic (ie. an occasional mouse may find it's way in and something will have to be done). All feature fully equipped kitchens, filtered drinking water, wood stoves, bedding/towels, hot outdoor showers, and fast wifi.

Built in 1972 by communards Slim & Horenga with later additions over the years.
Four beds in four nooks and crannies.
Private accommodations for staff, board, friends of SCF, and occasionally available for large all-commune retreats.
Featuring the library and communal kitchen and dining areas, it will eventually become a semi-communal space and part-time residence for the director.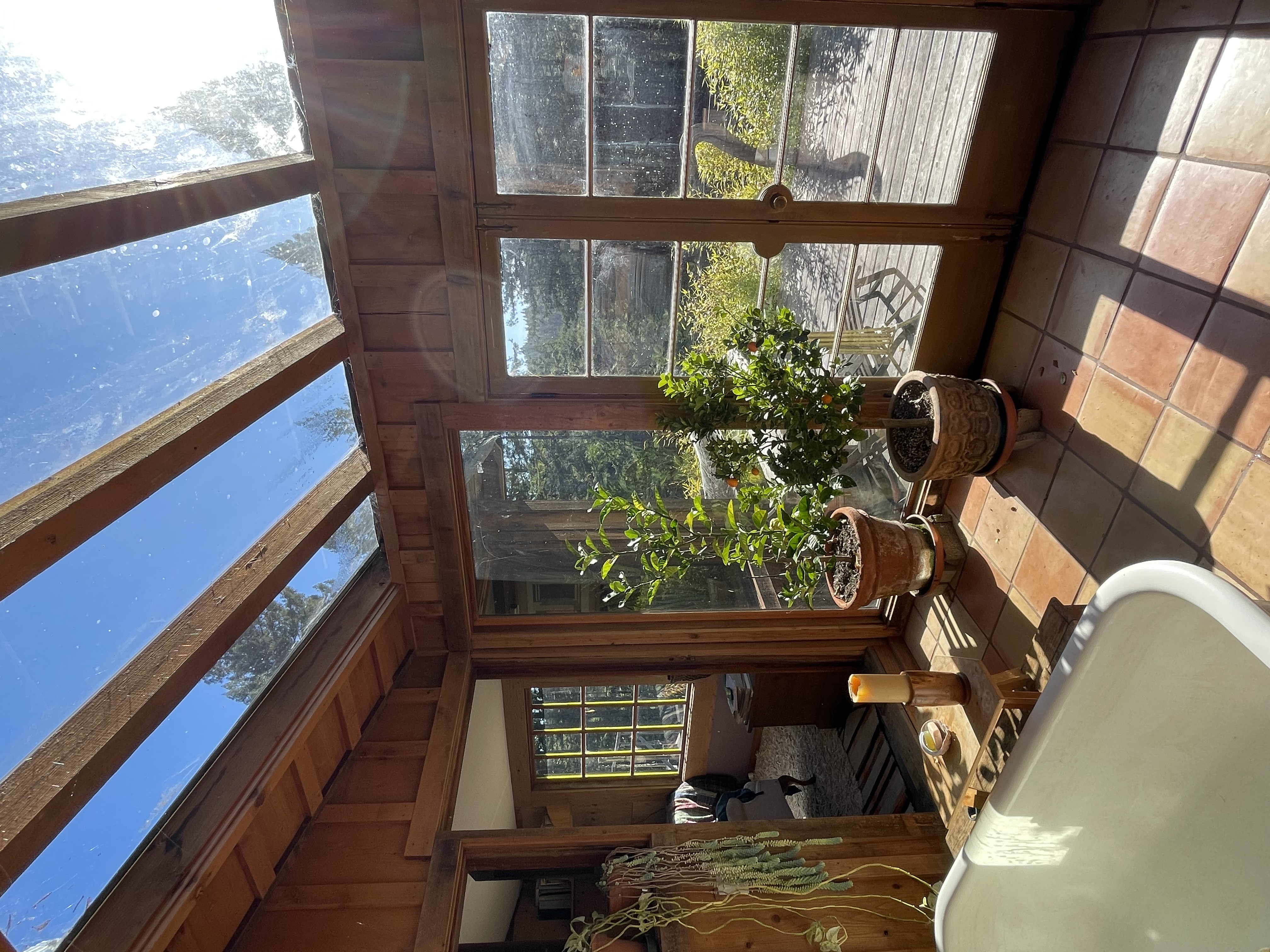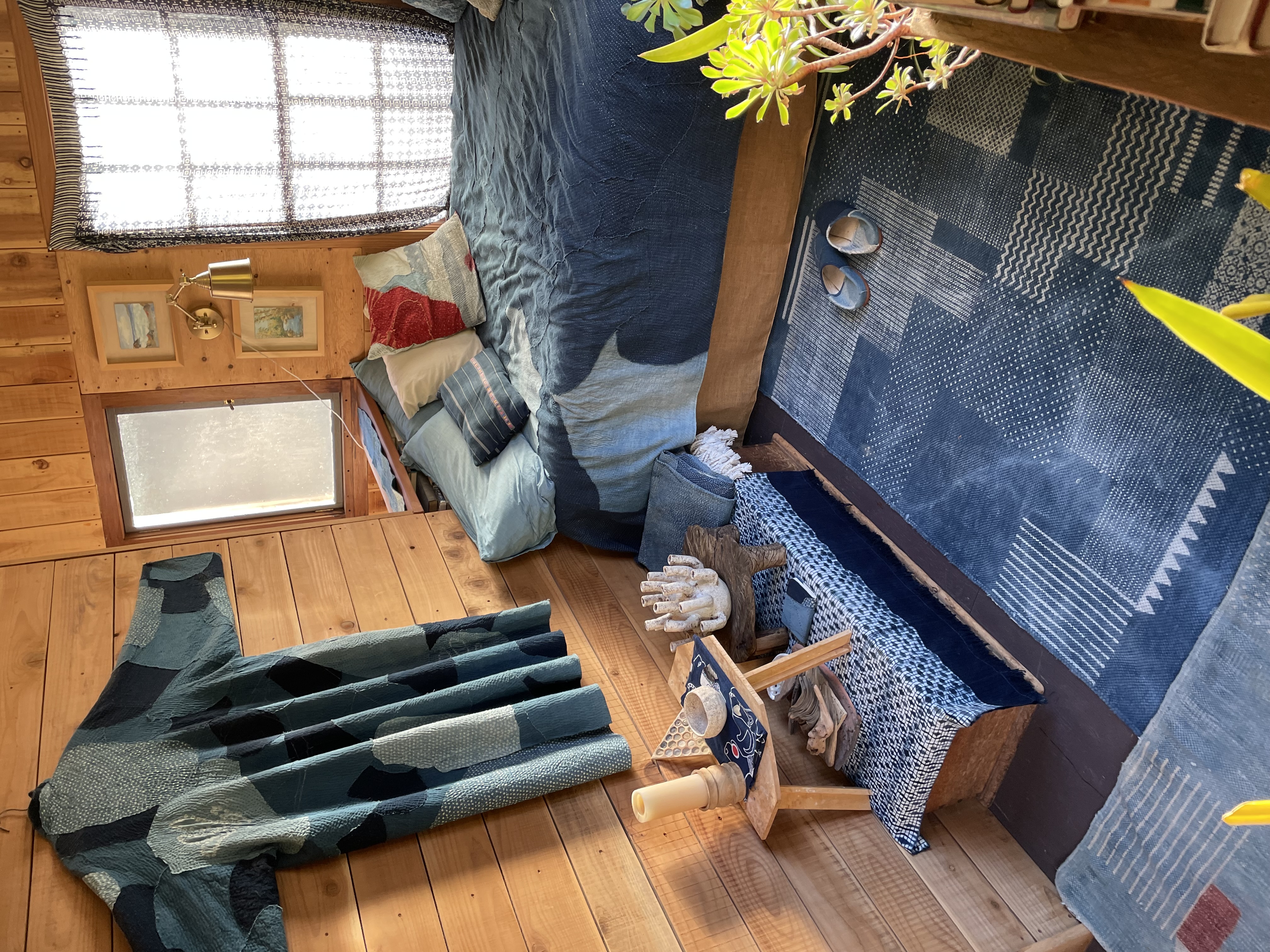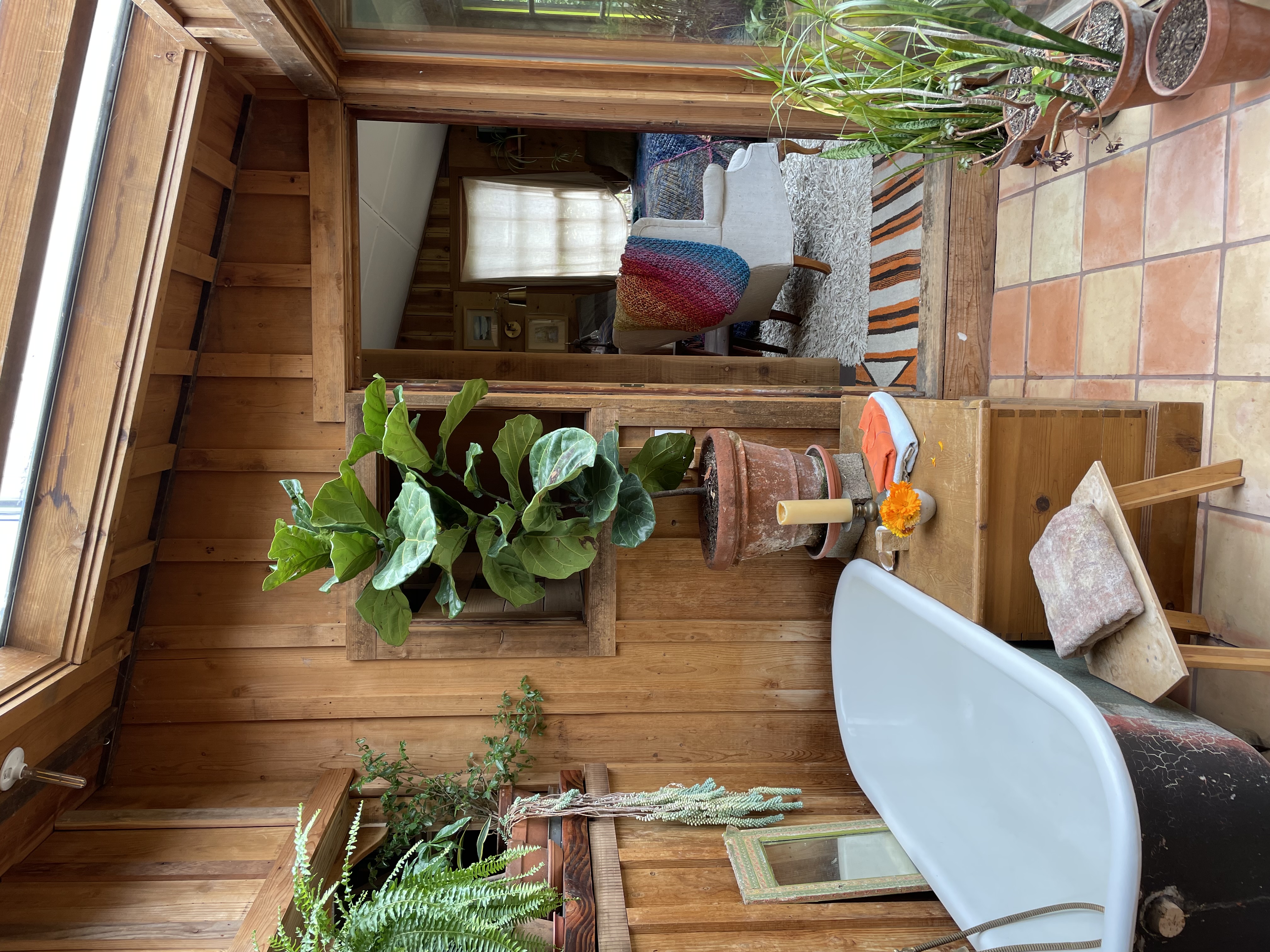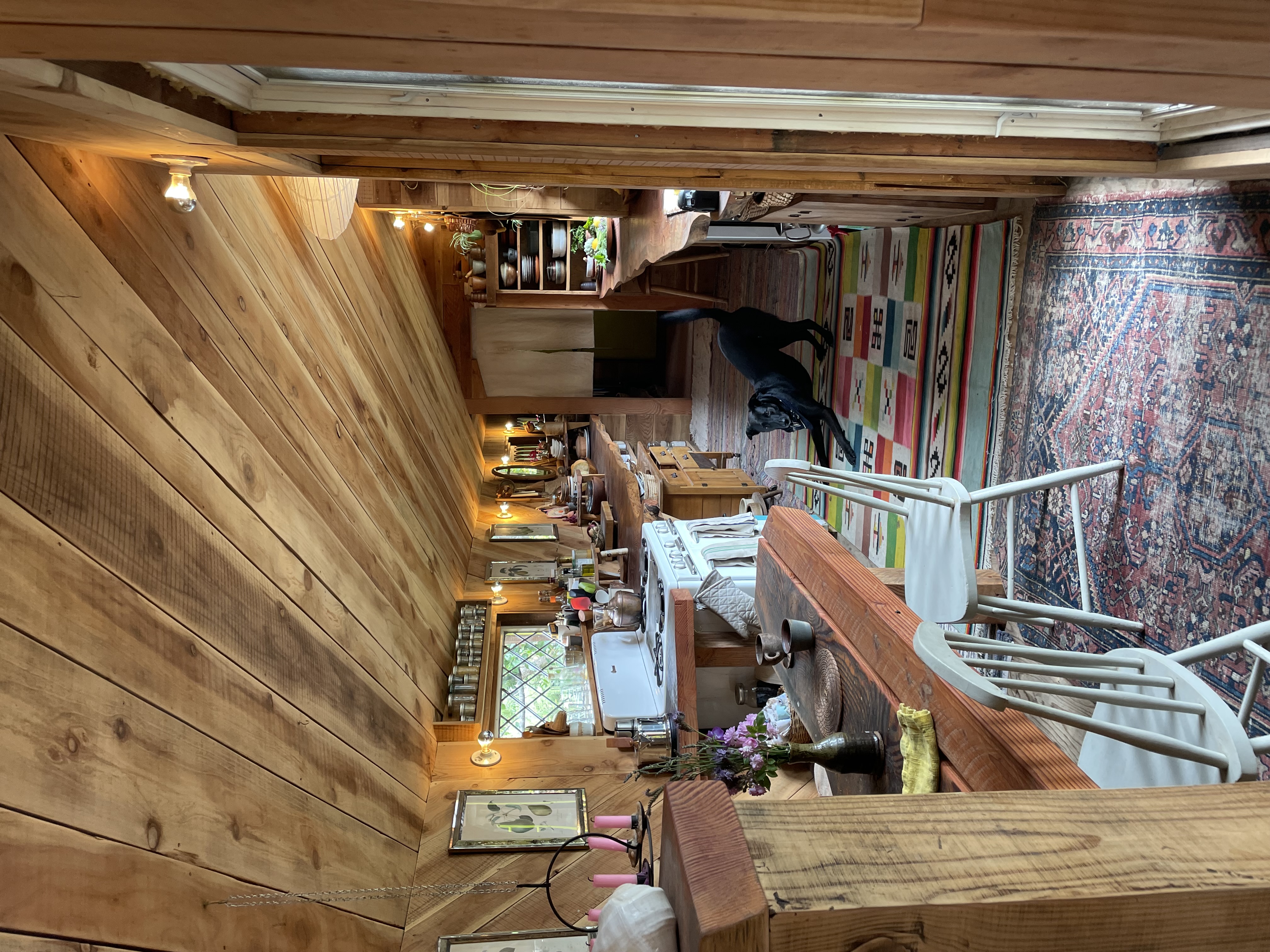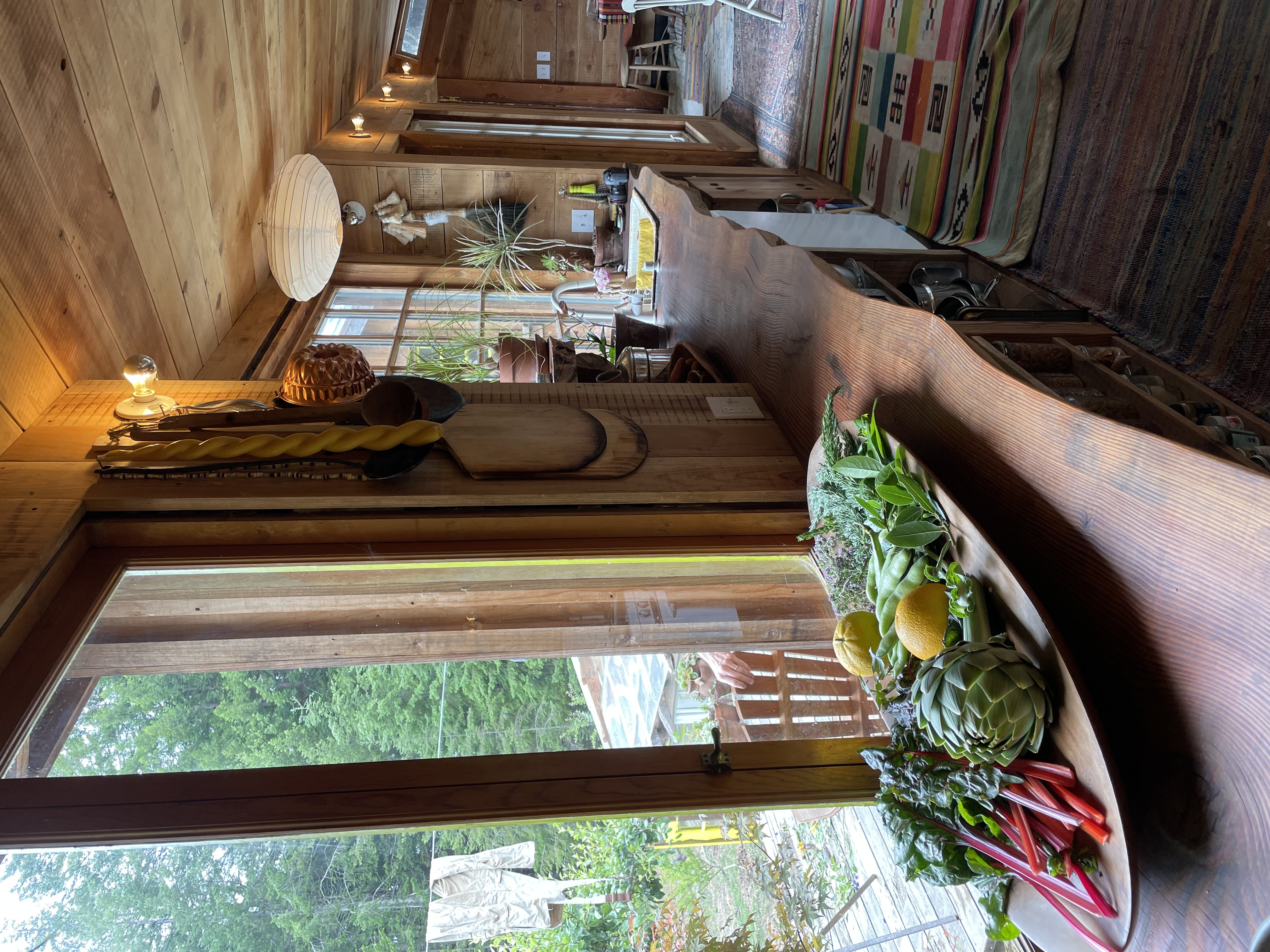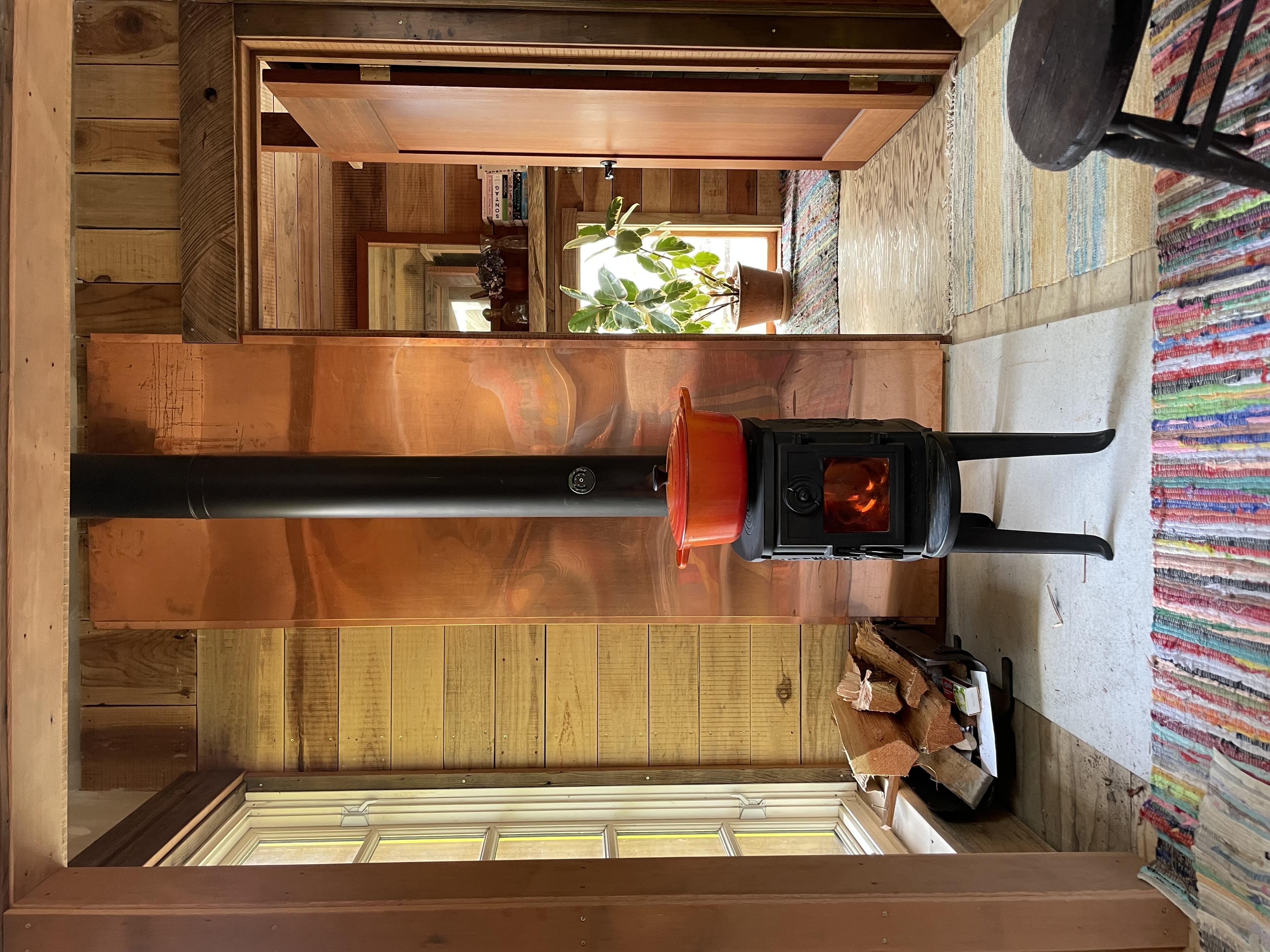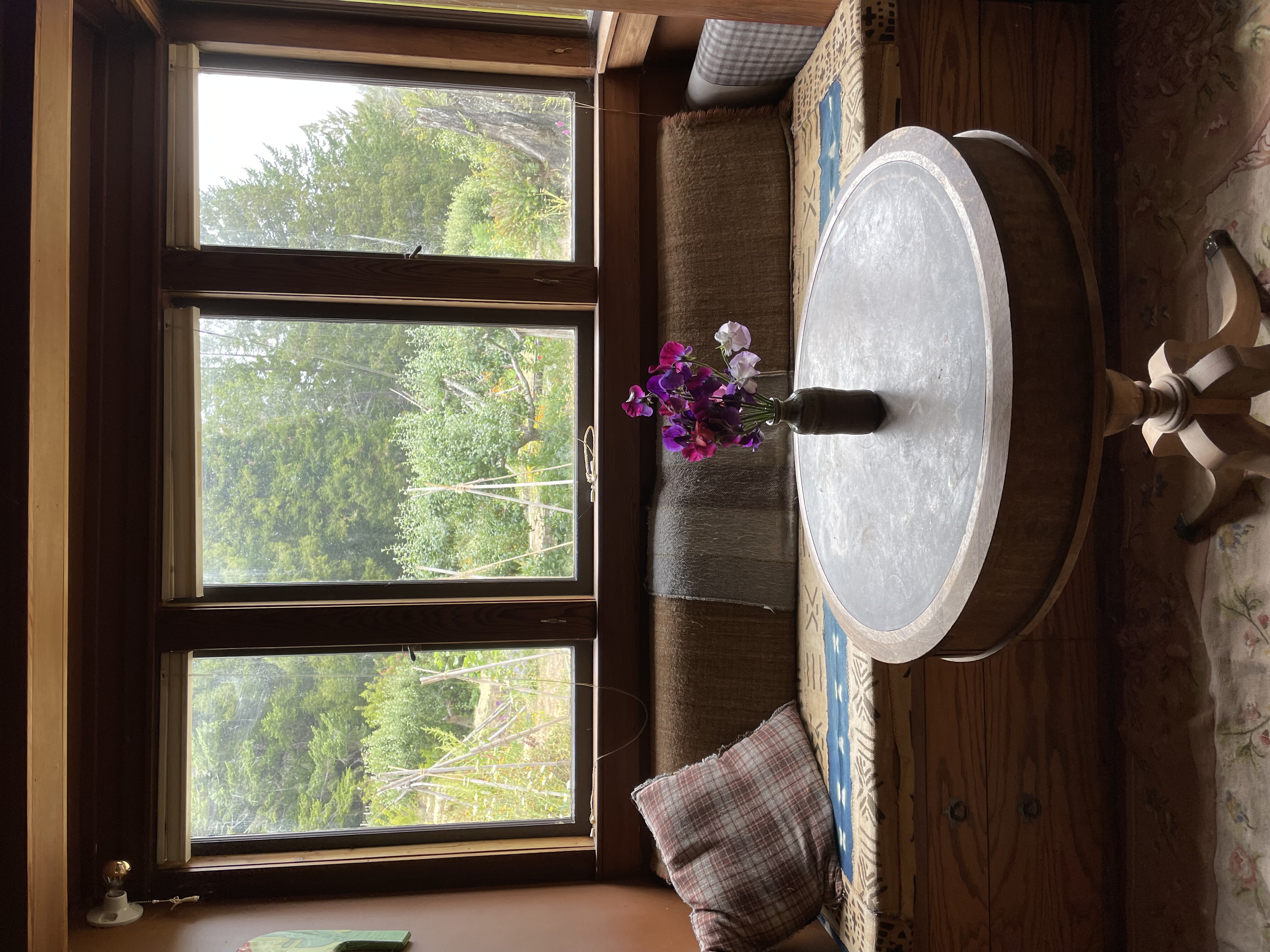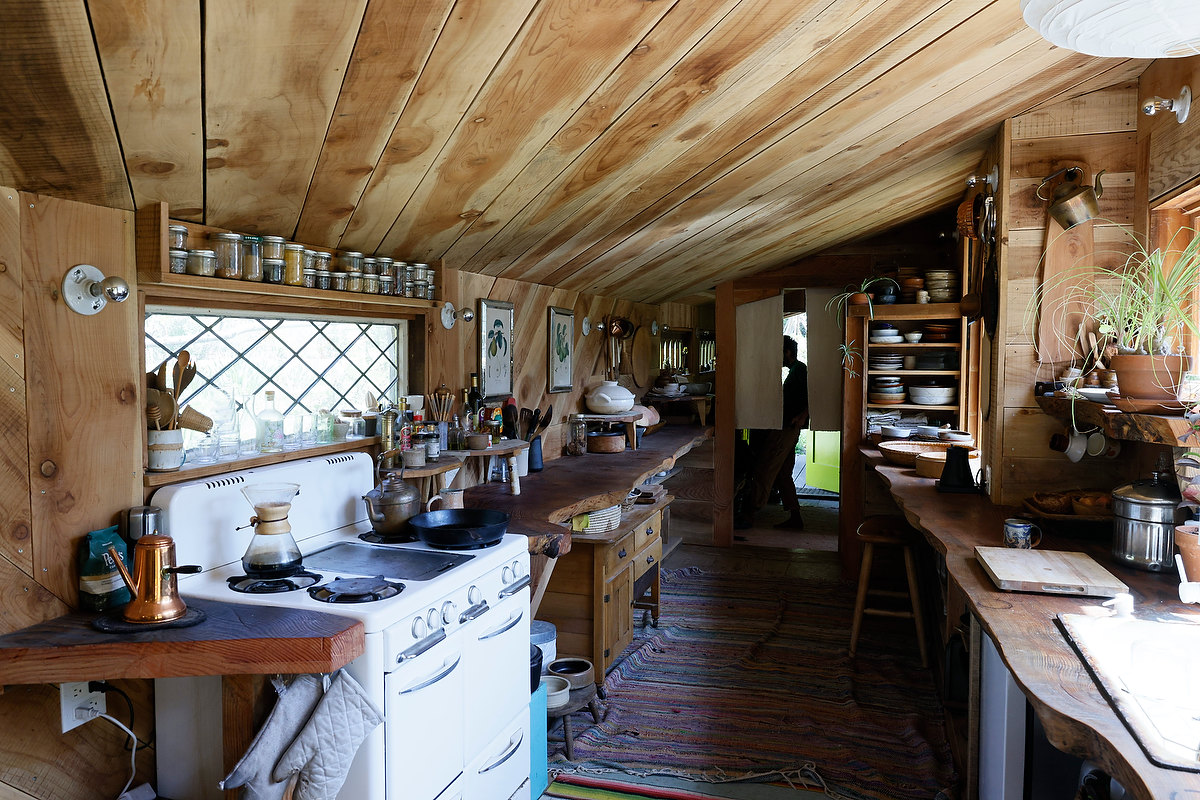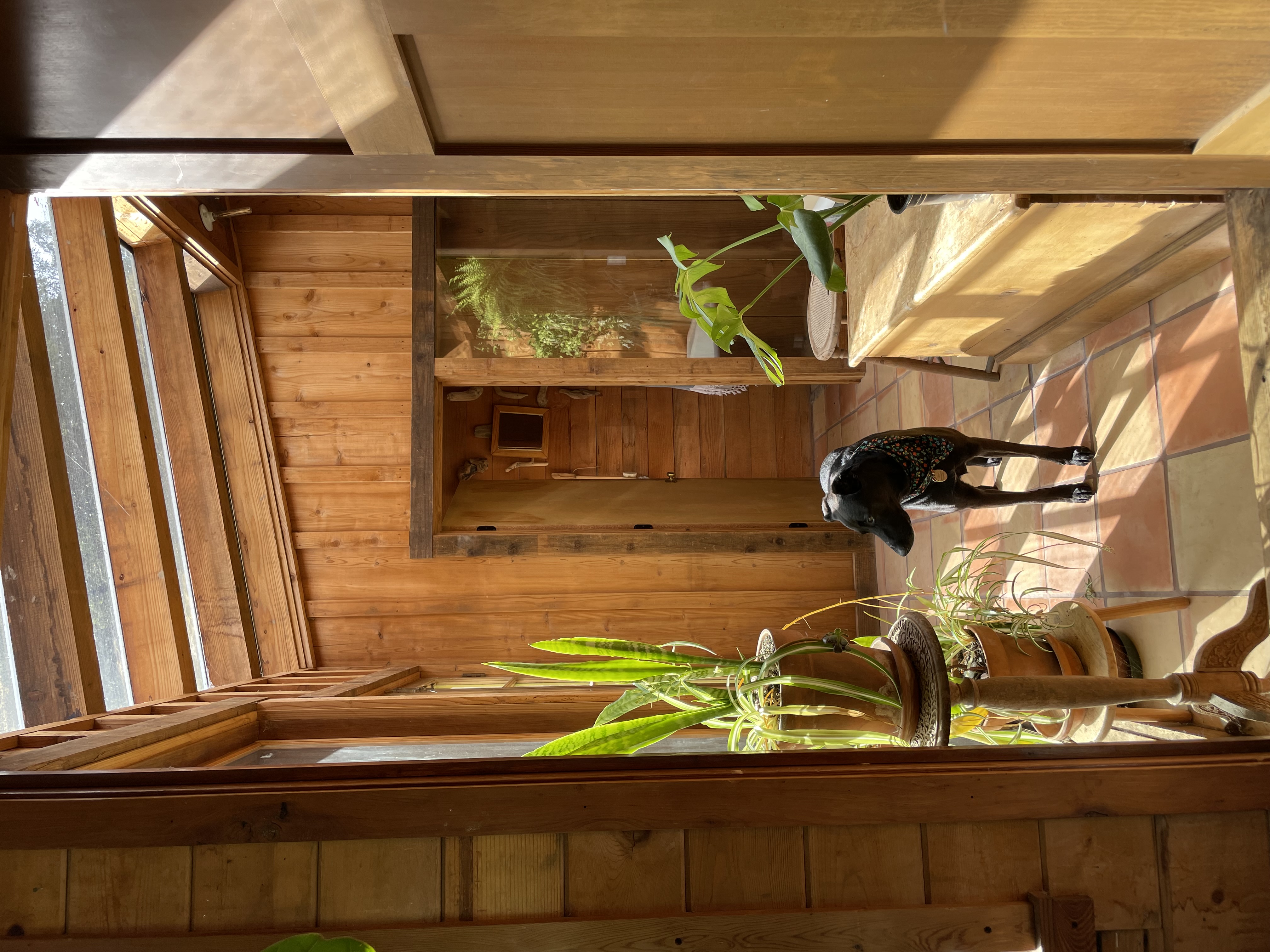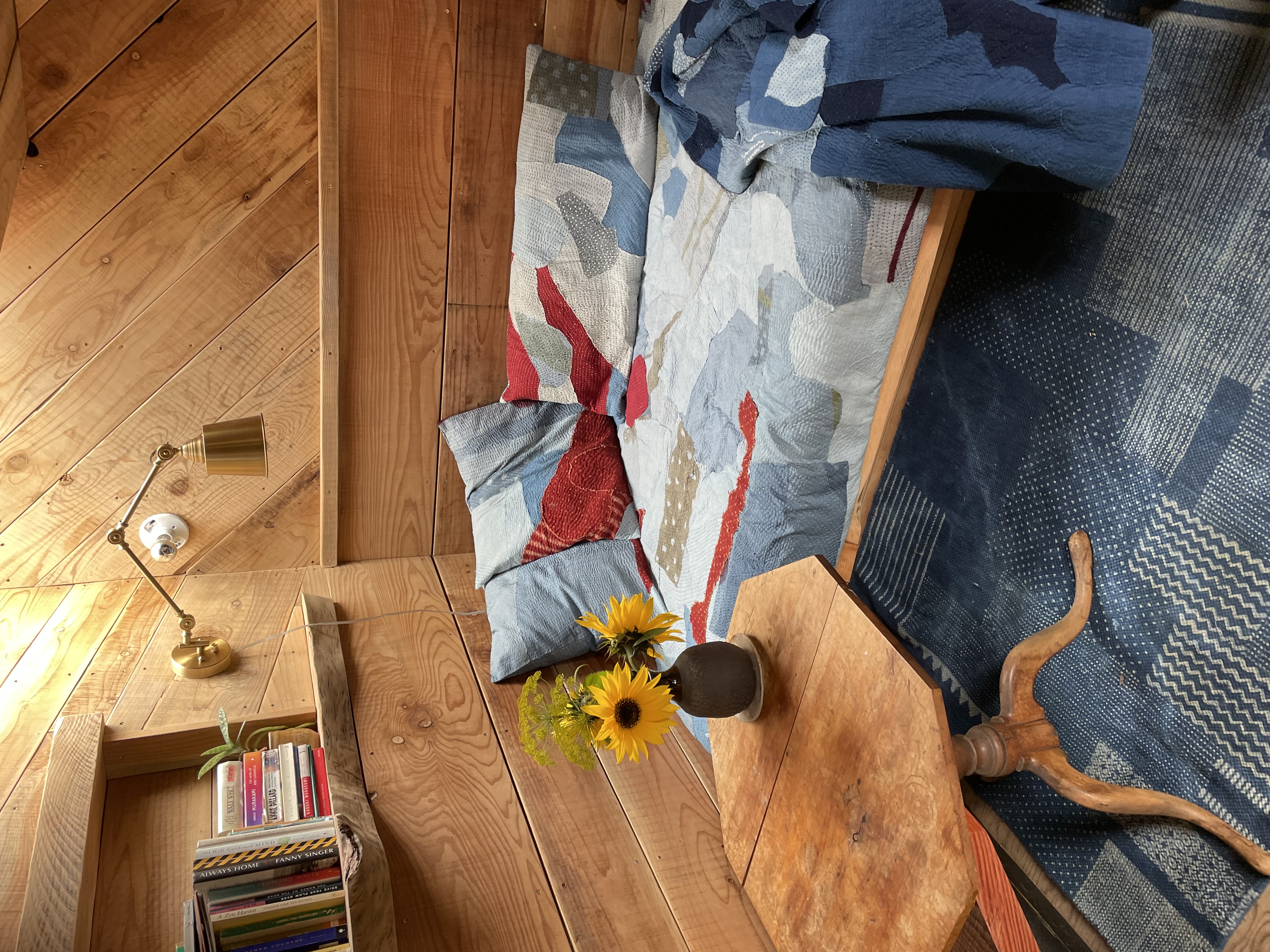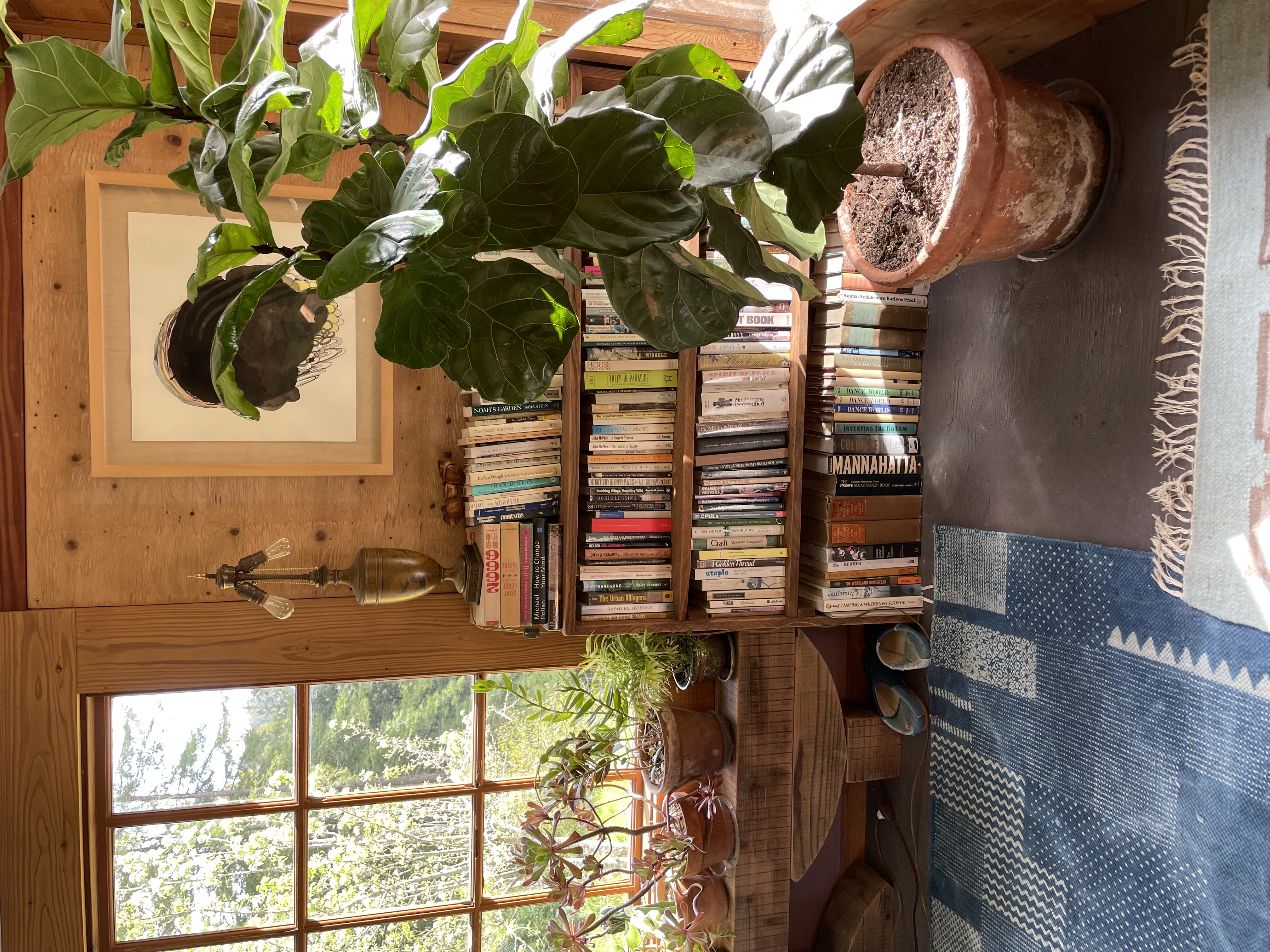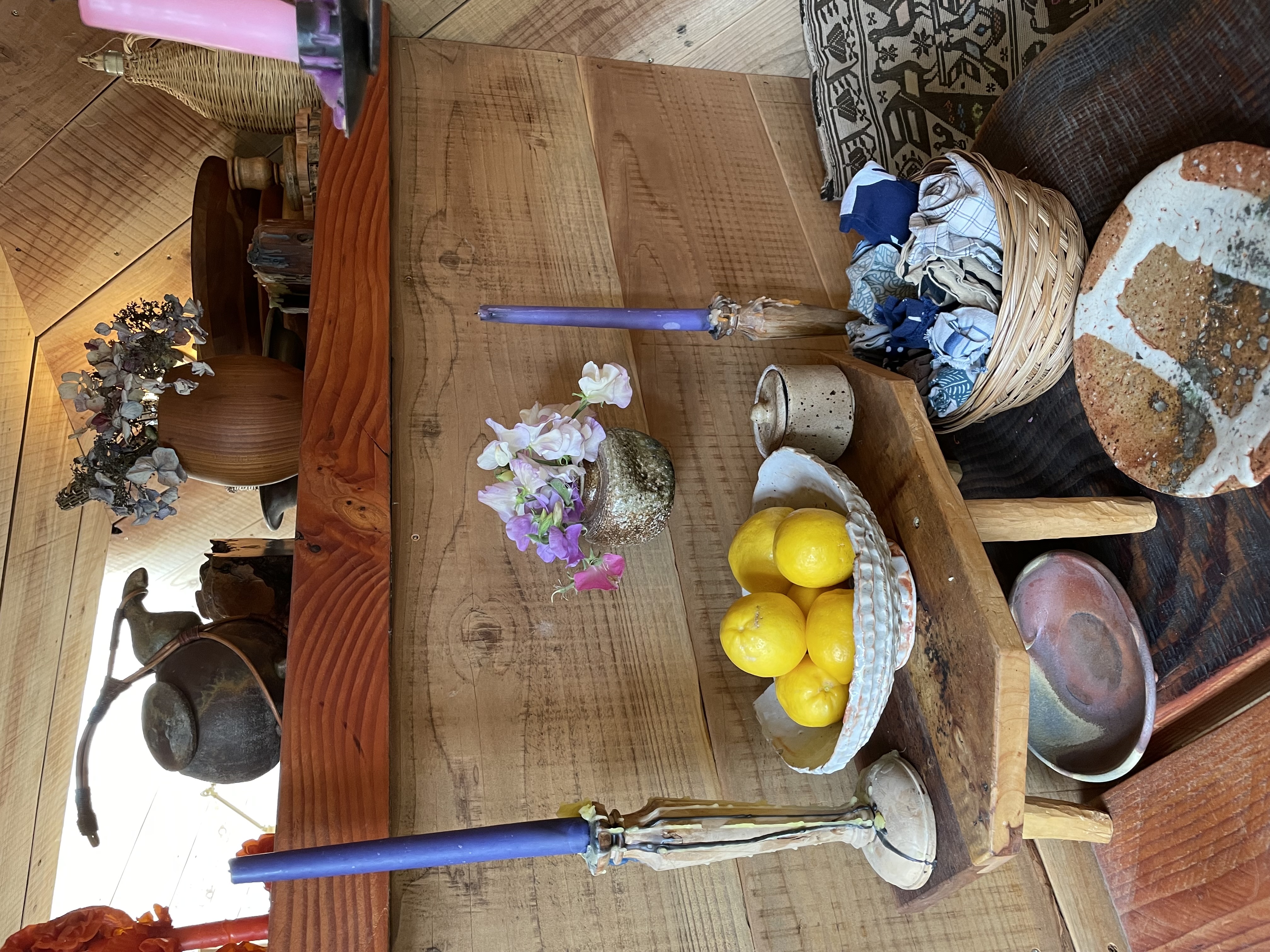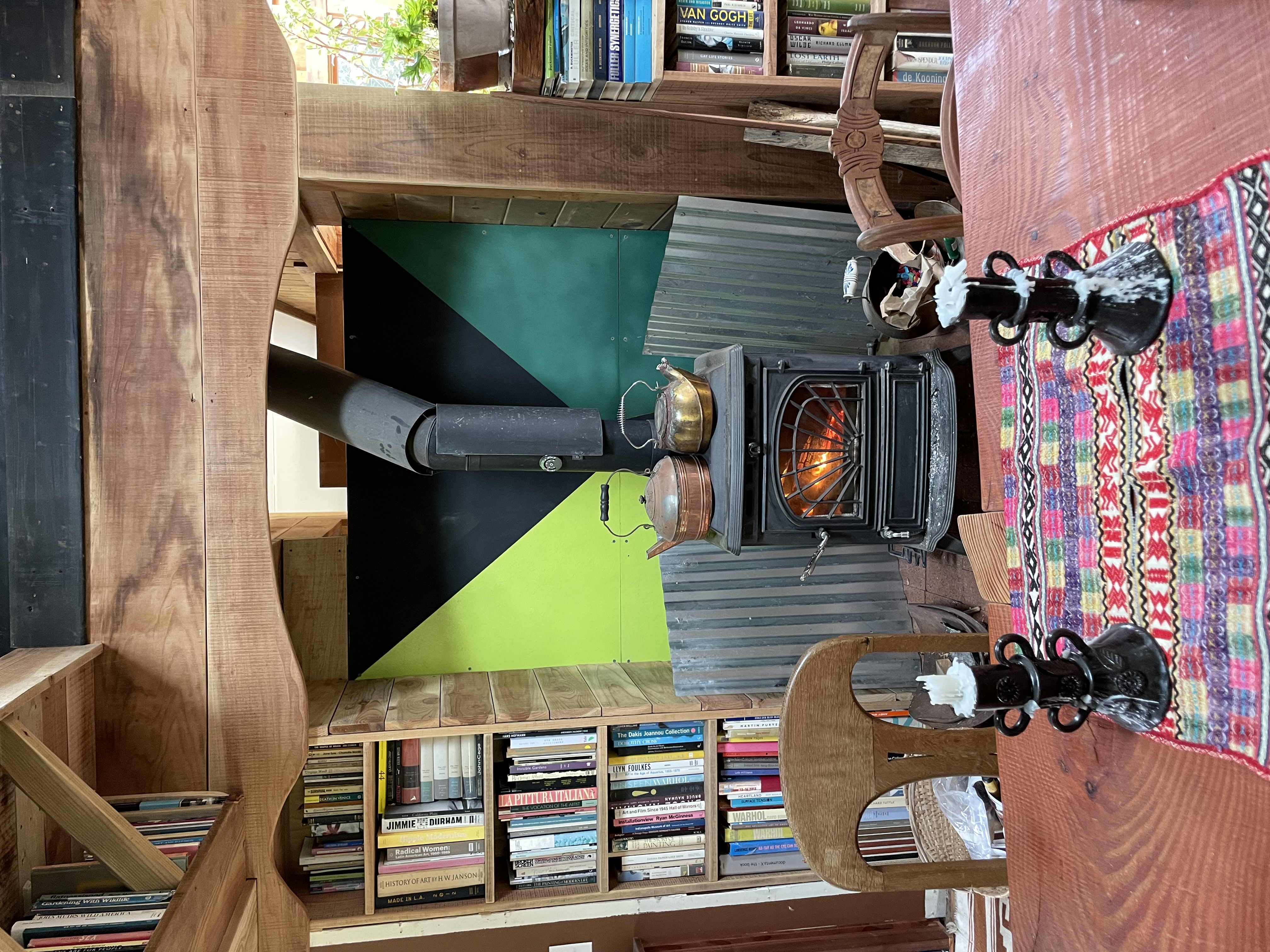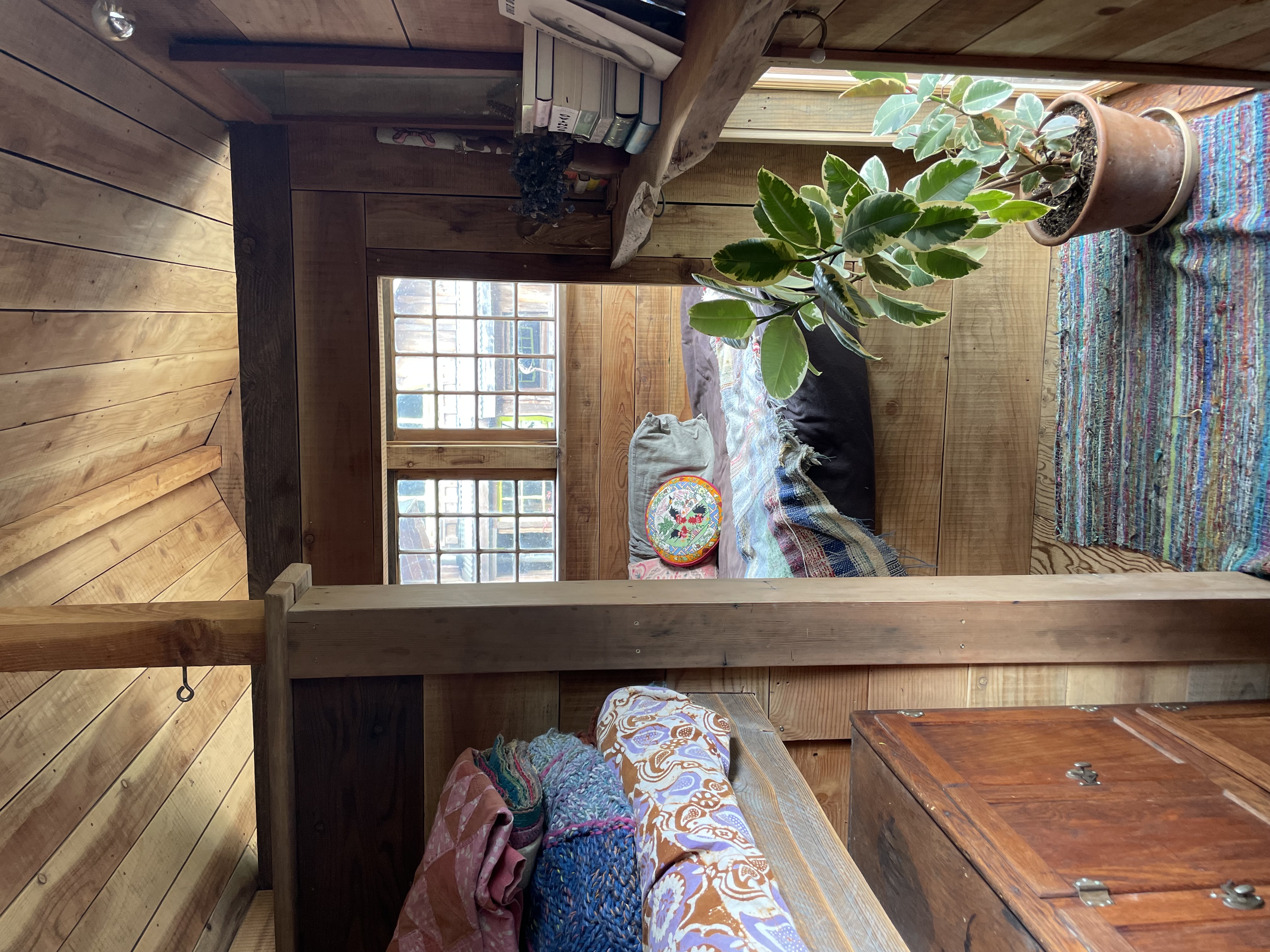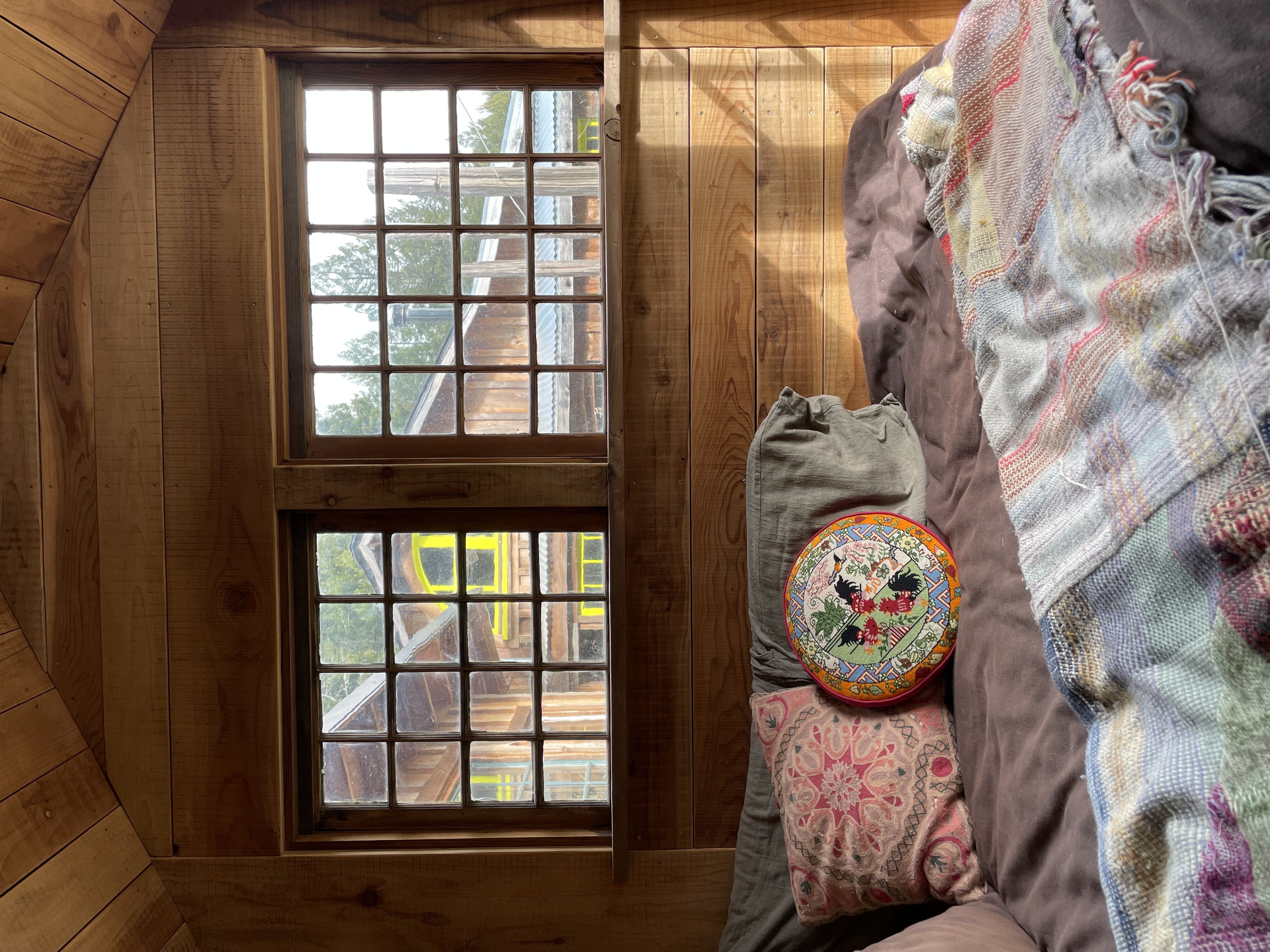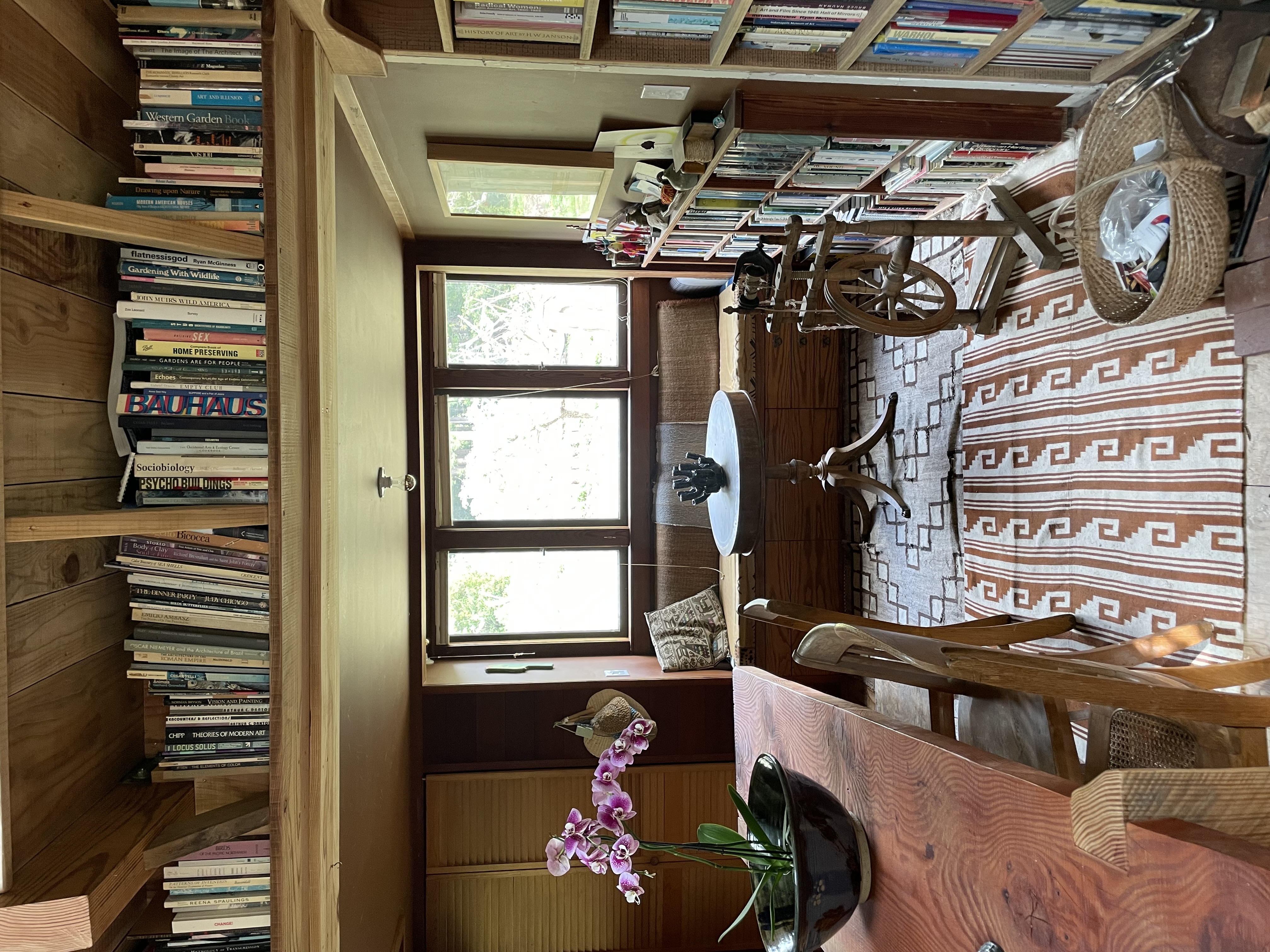 Built in 1974, later used as a shop by communard kid Rainbow, and freshly renovated by over 50 folks visiting in summer 2022 for 2 months of skill-sharing barn-raising work-partying.
Capacity: single, couple, or three friends.
3 beds: a queen mattress on top floor, twin alcove bed on the middle level, and twin futon in seating nook on the entry level.
Features: three levels step into the hillside offering a kitchen wing & cozy wood stove seating circle below, desk & sleeping nook on the middle level, topped by sleeping loft under an arched dormer window and a vaulted ceiling.
Cabin is perched in the center of the land with great views. (More photos to come, but here are post-
renovation pics
)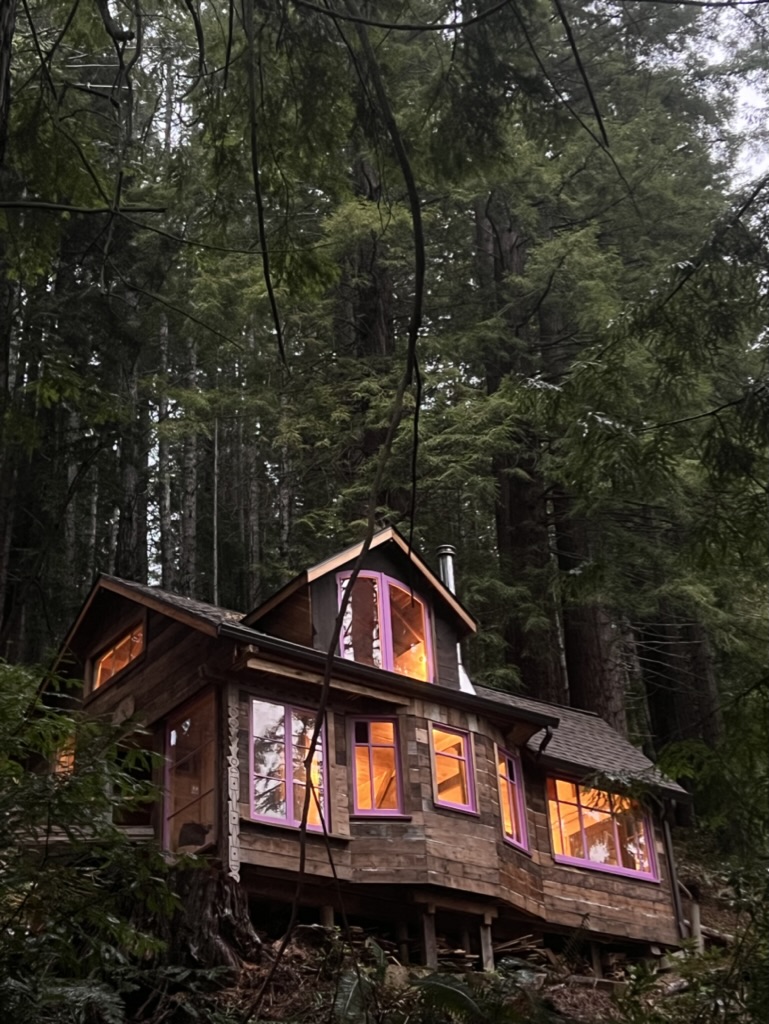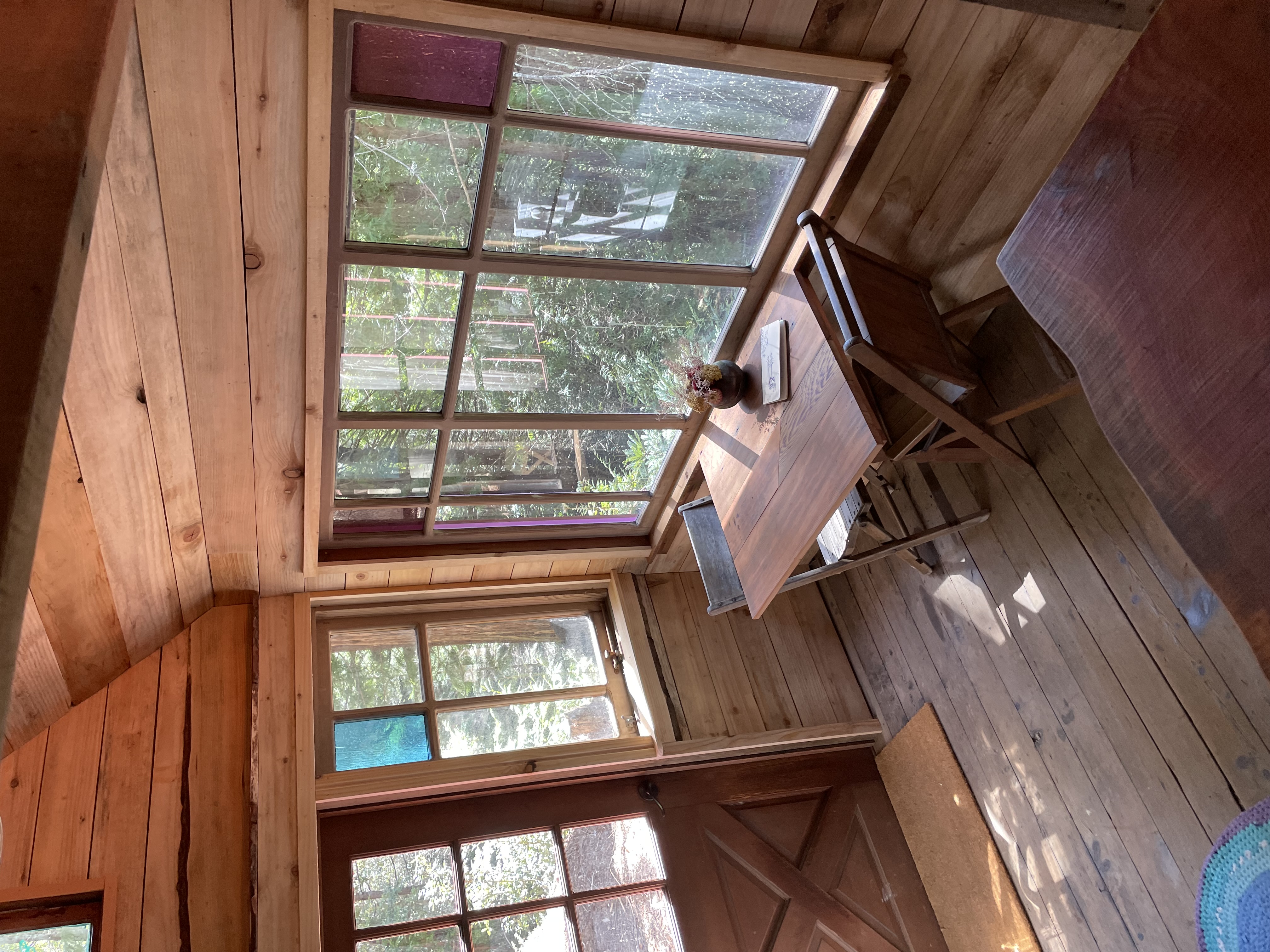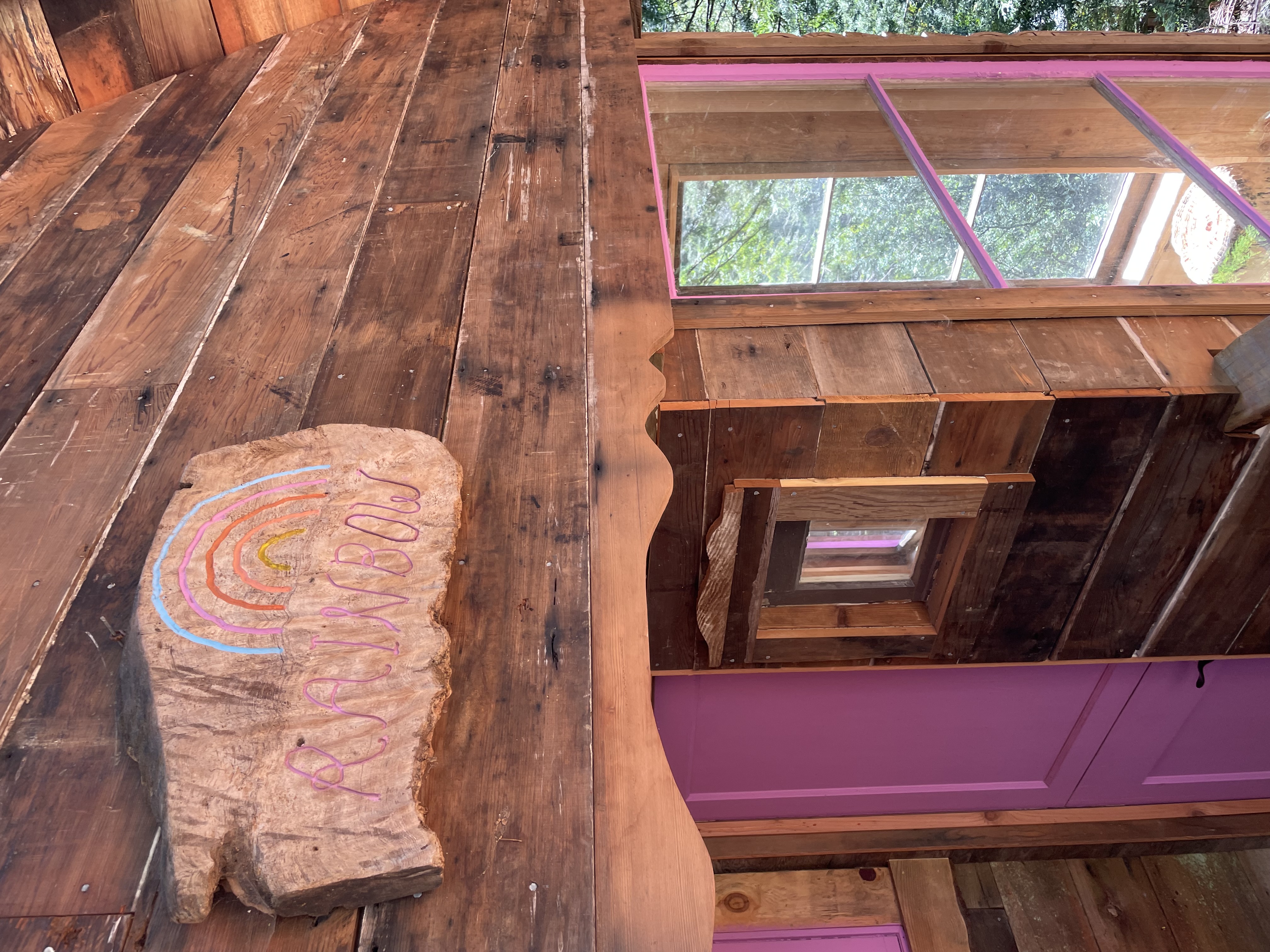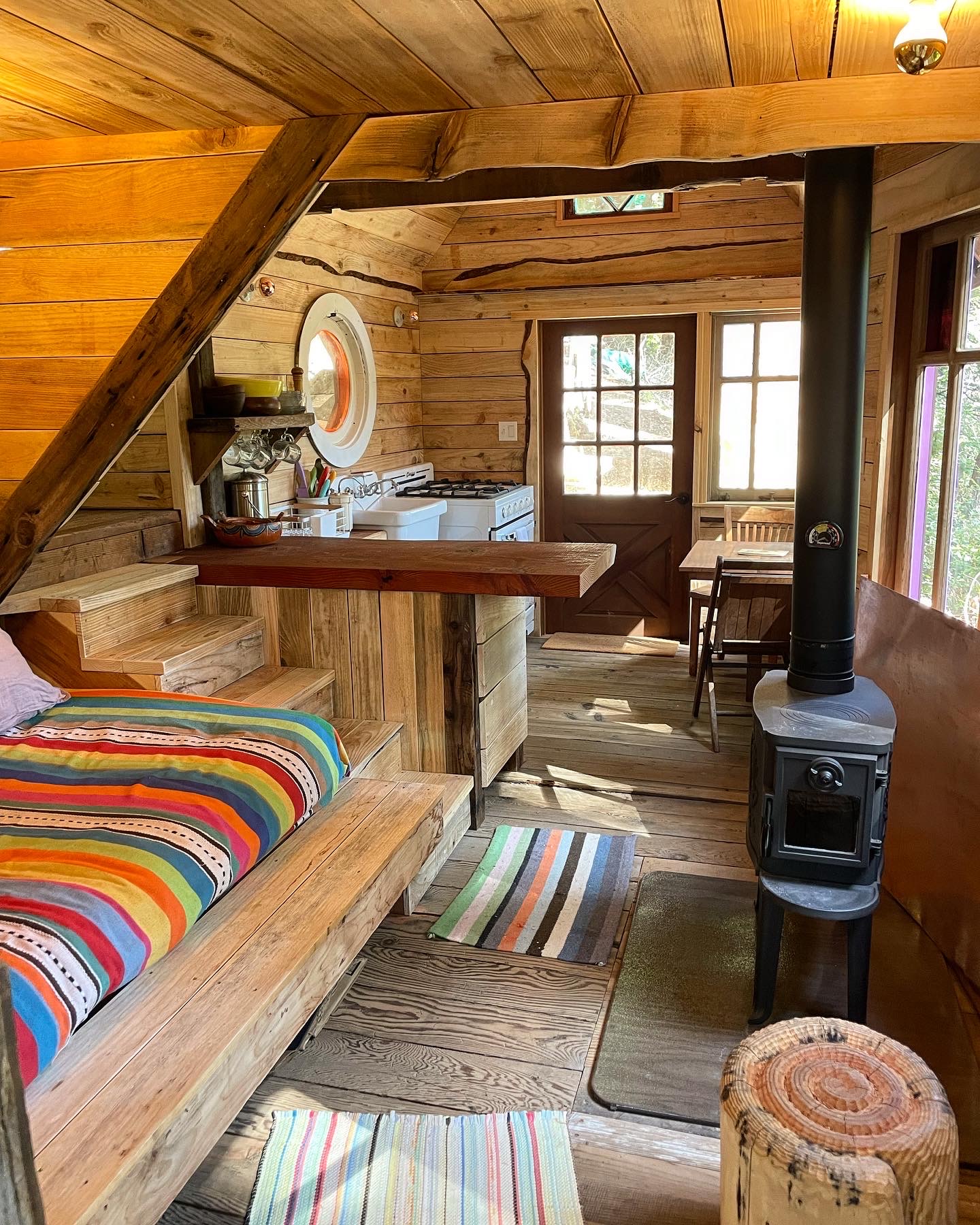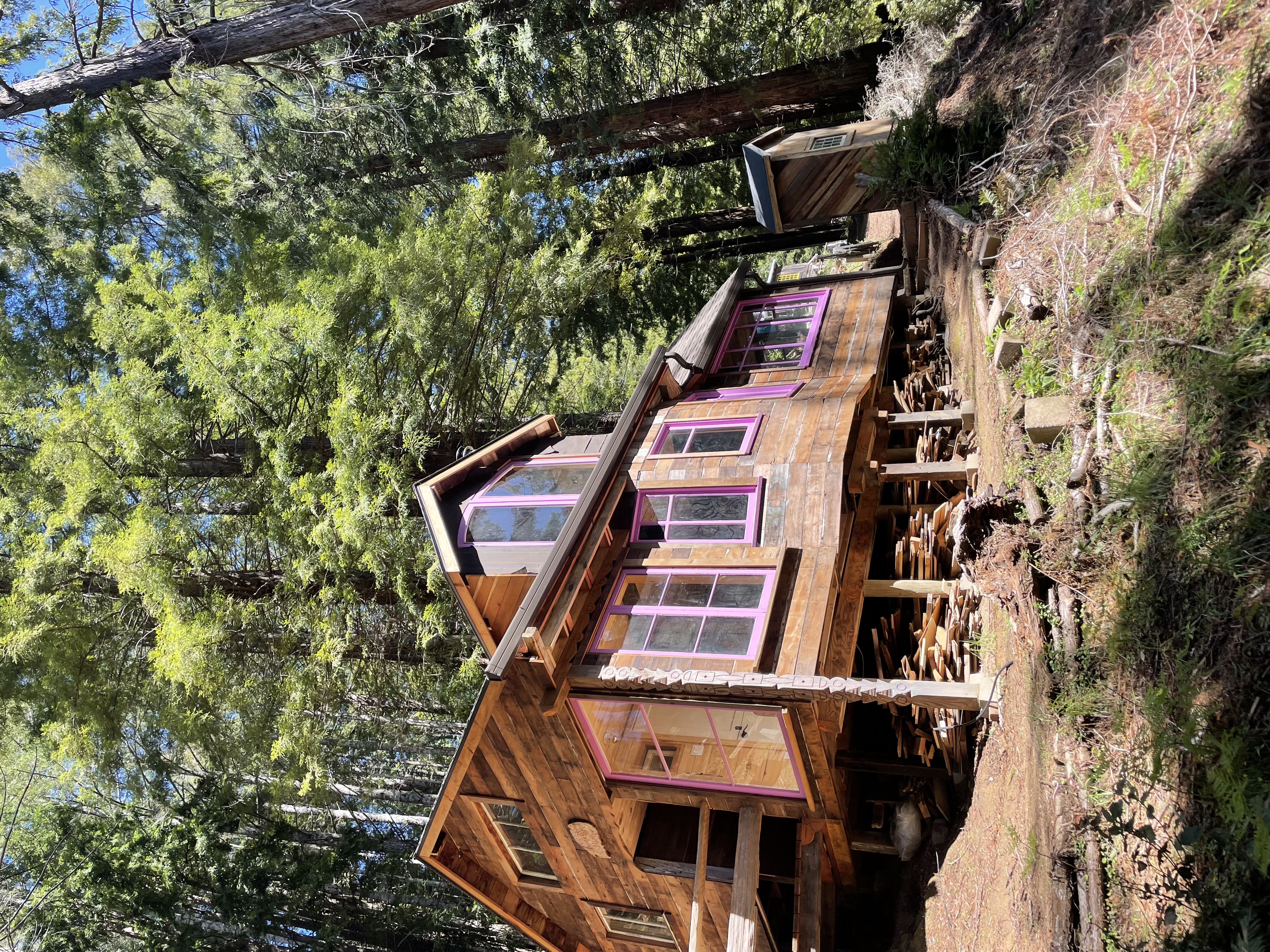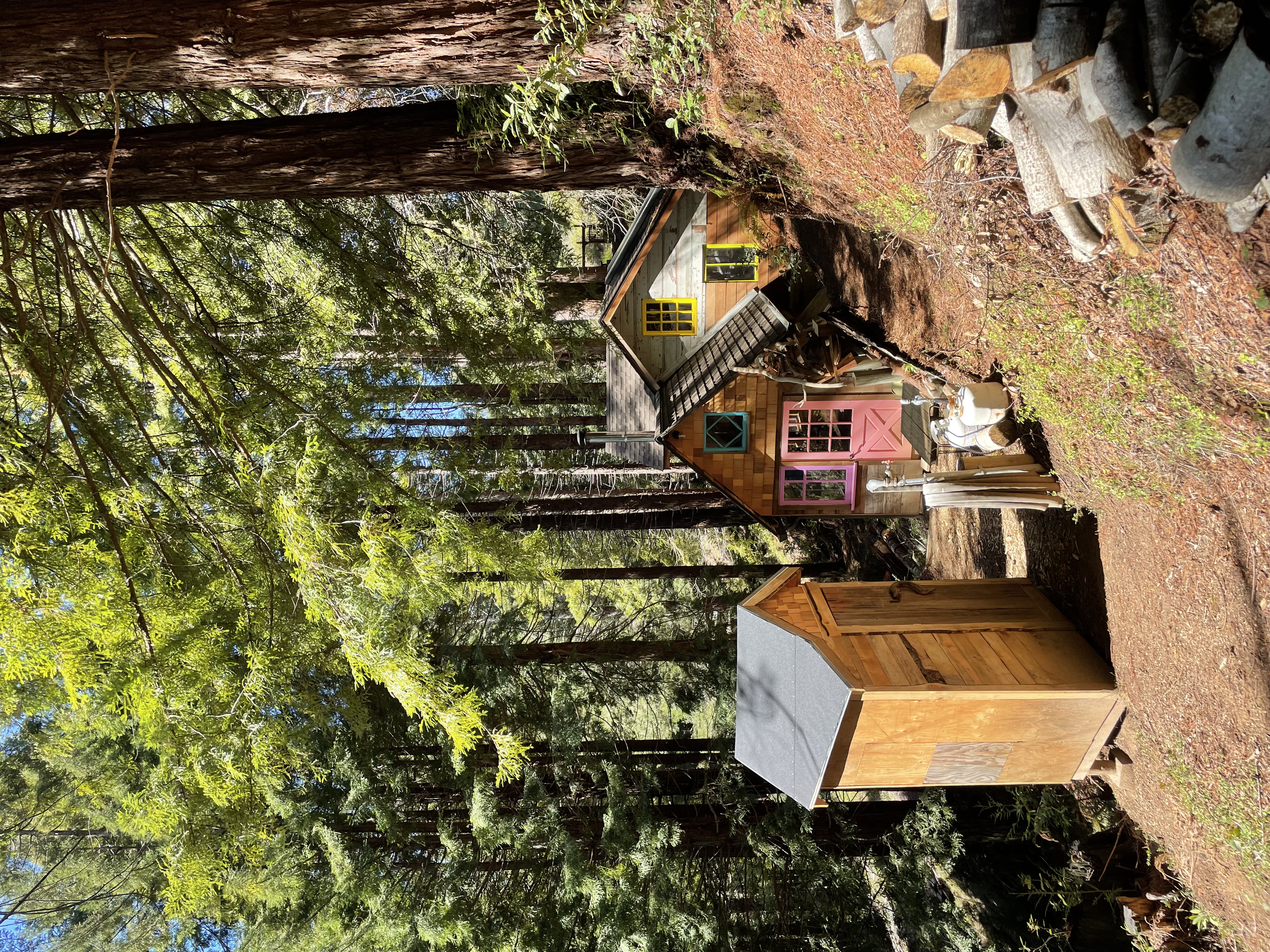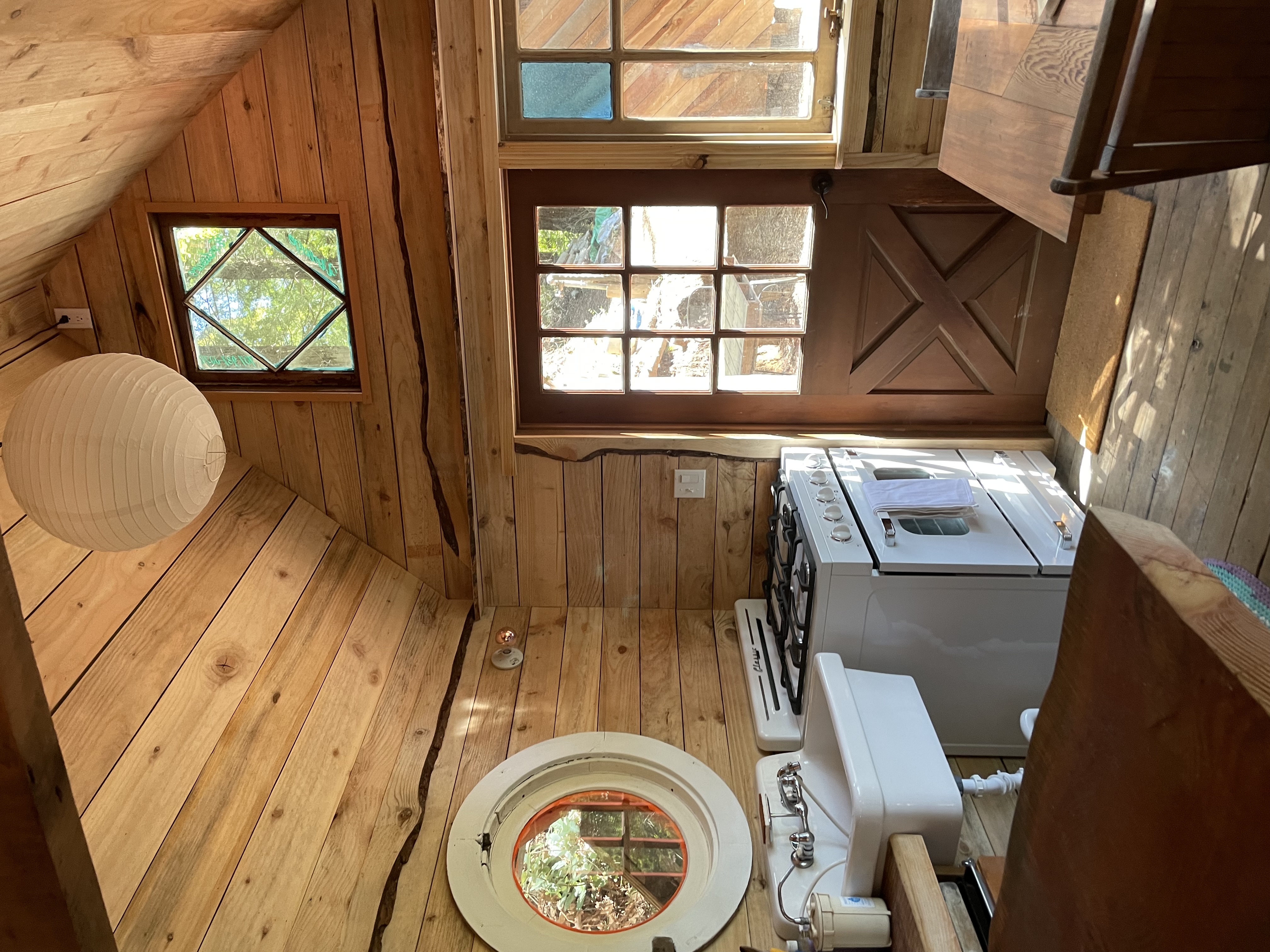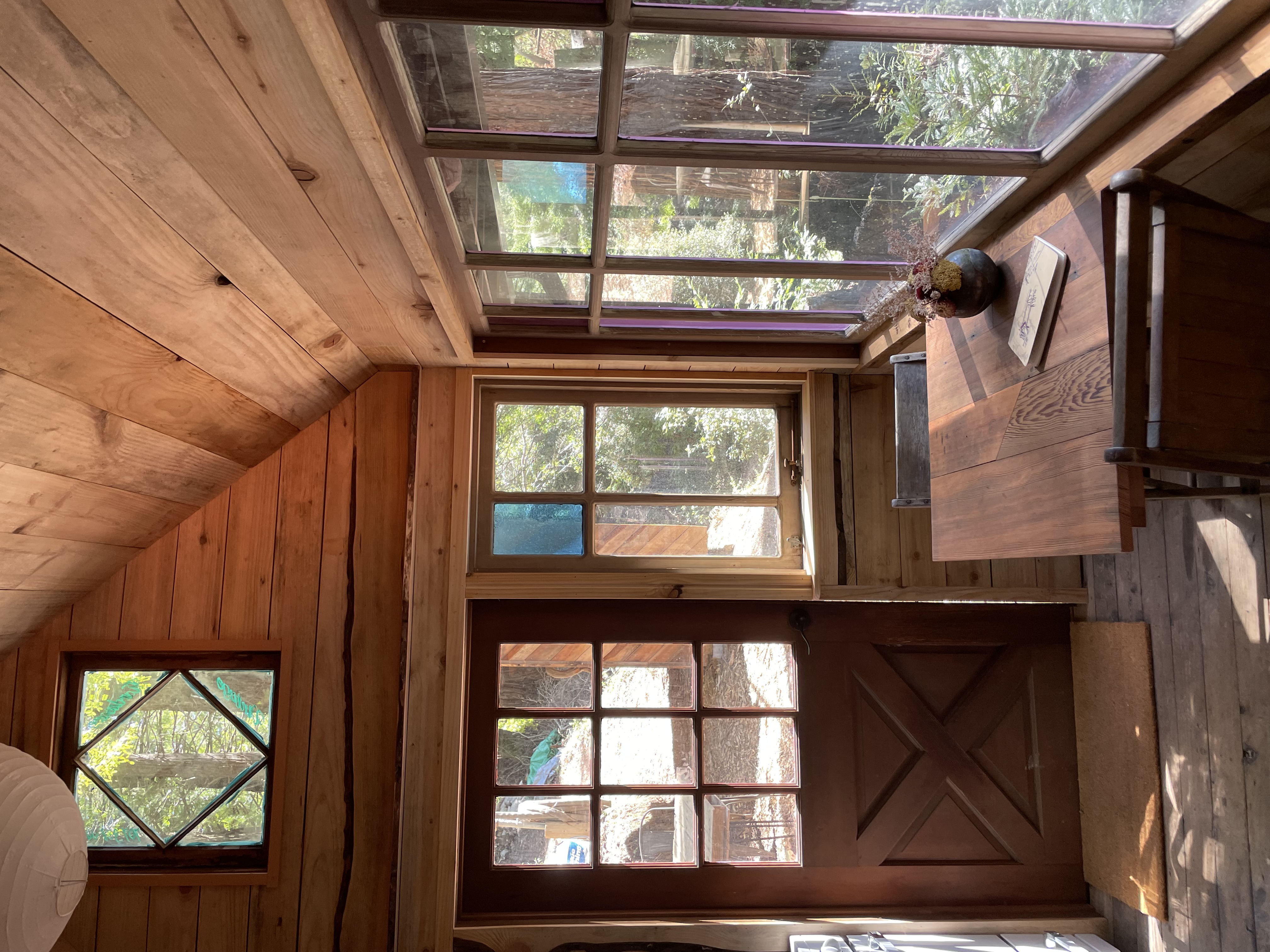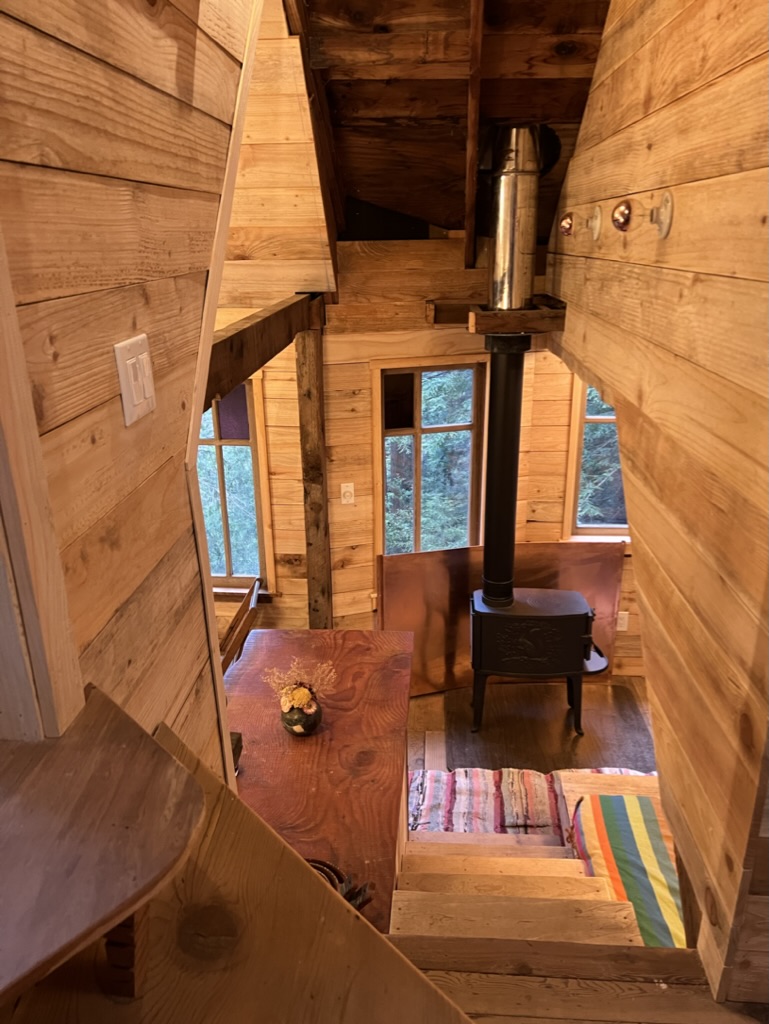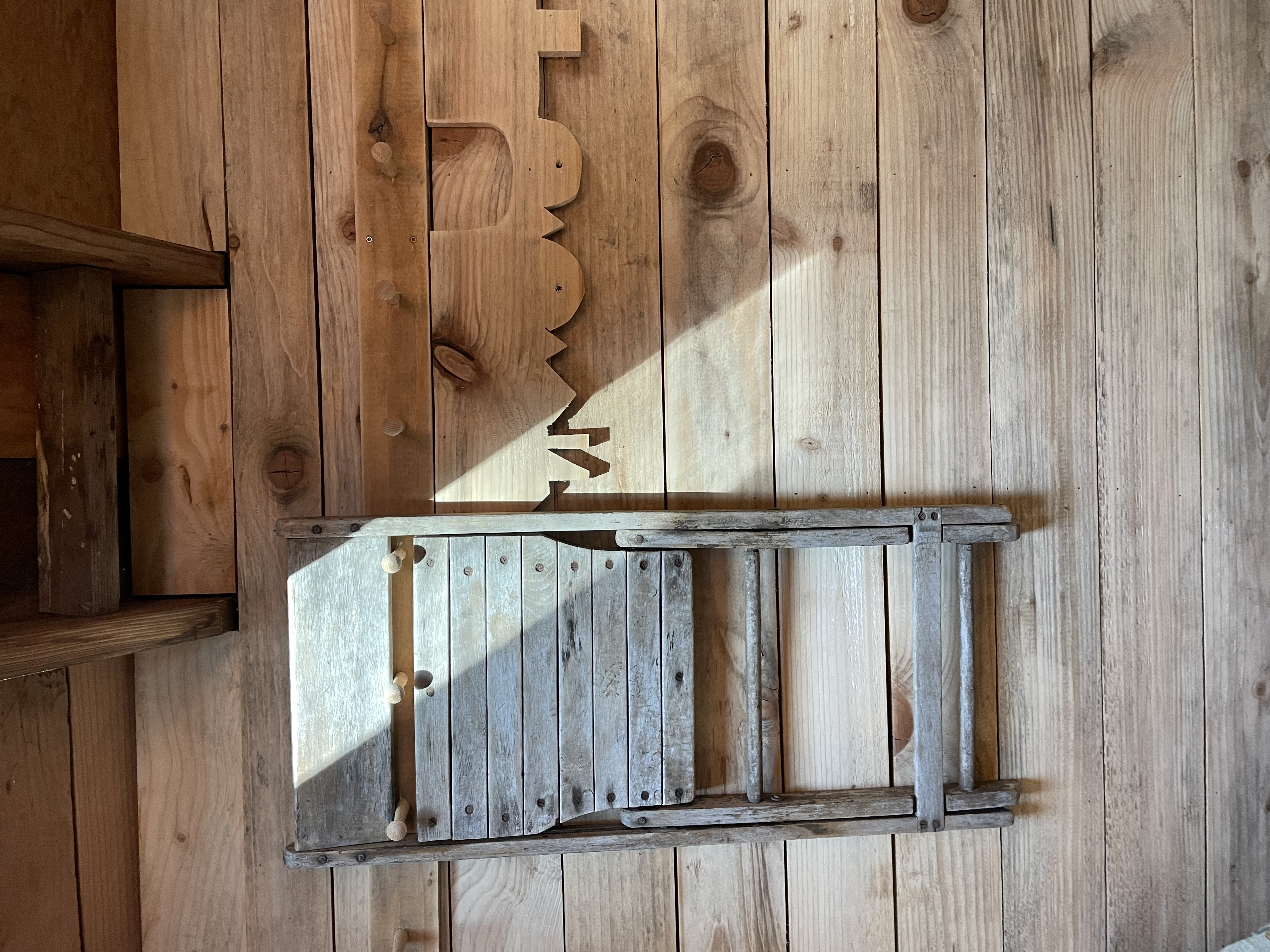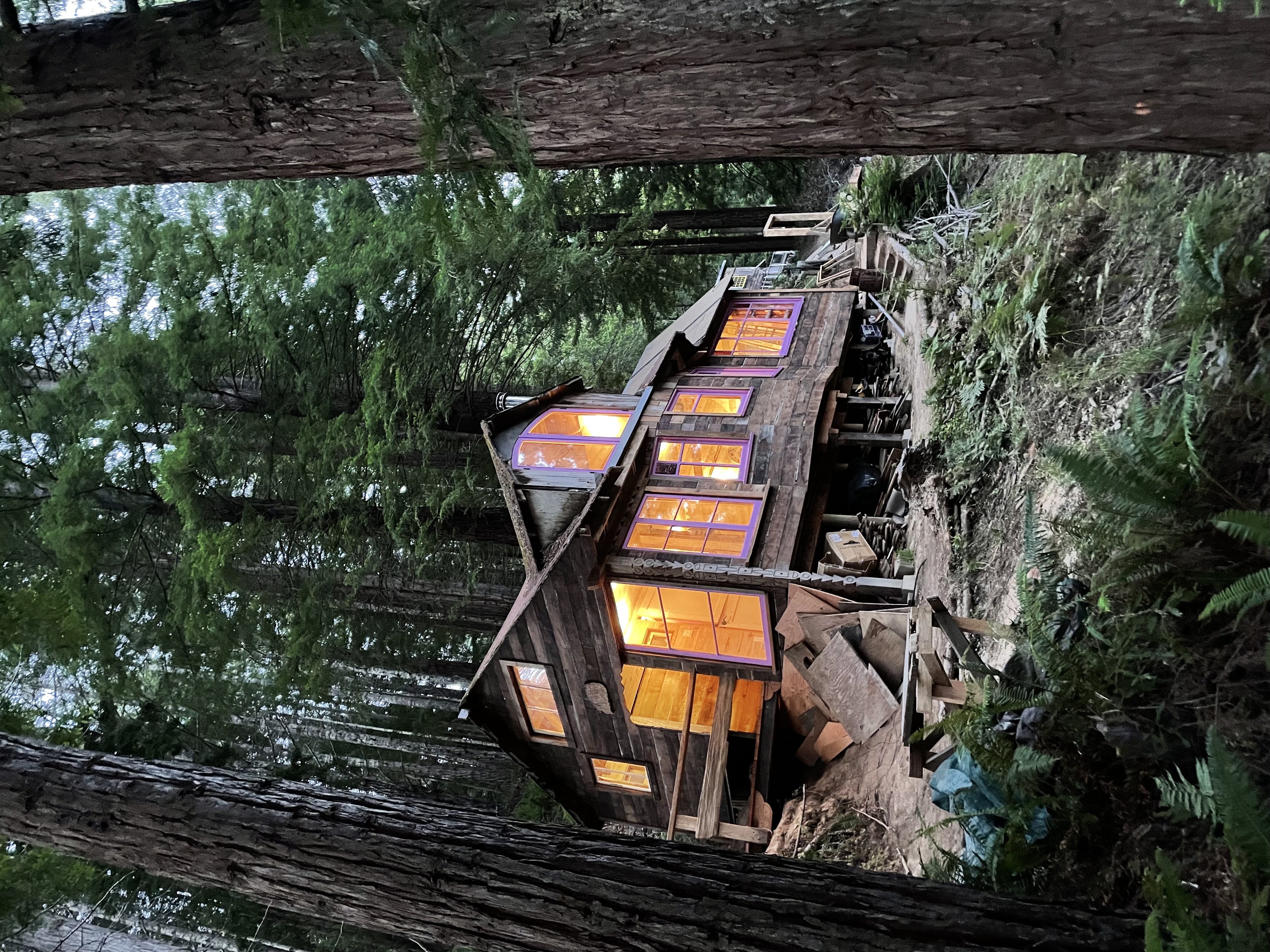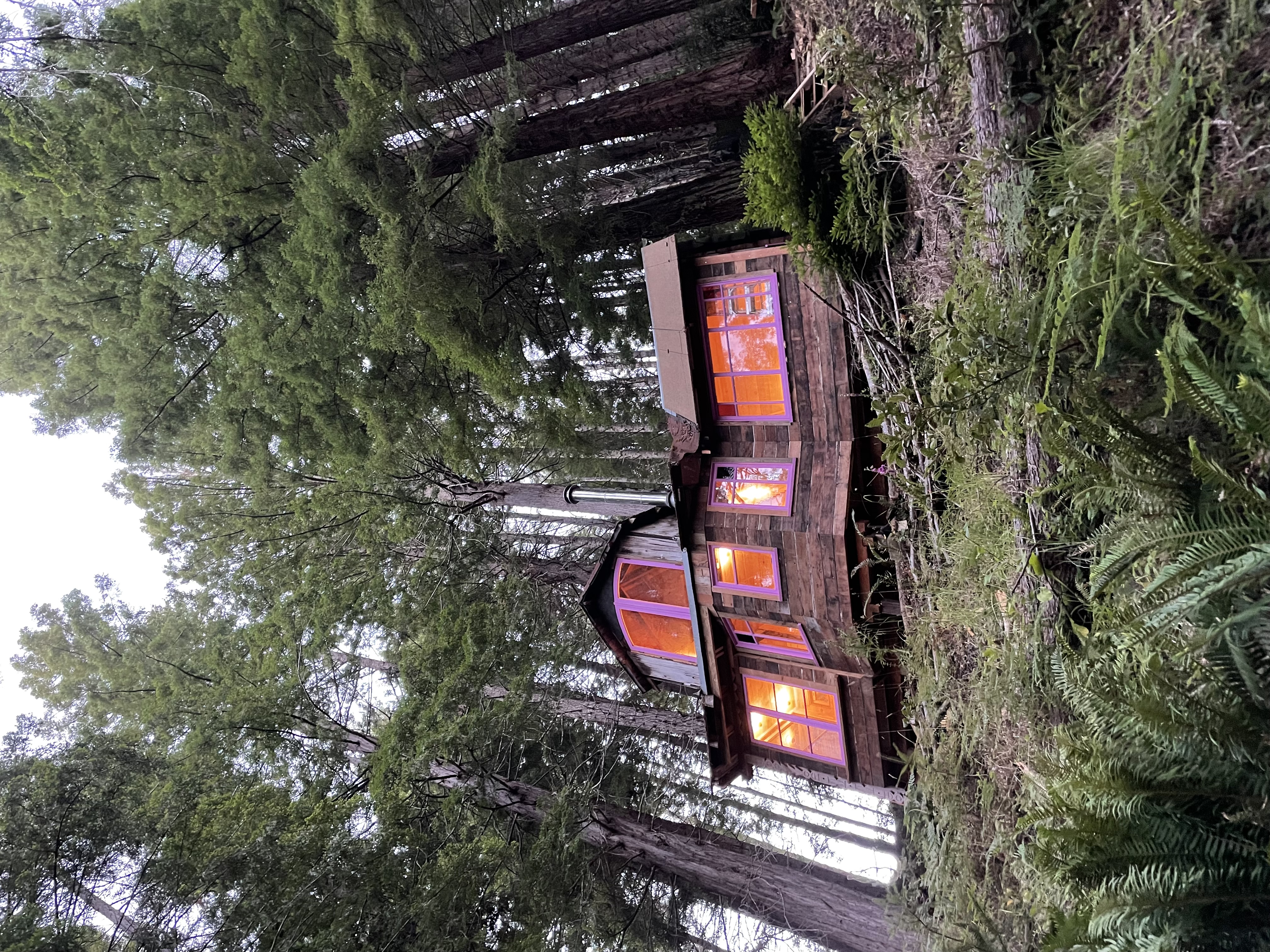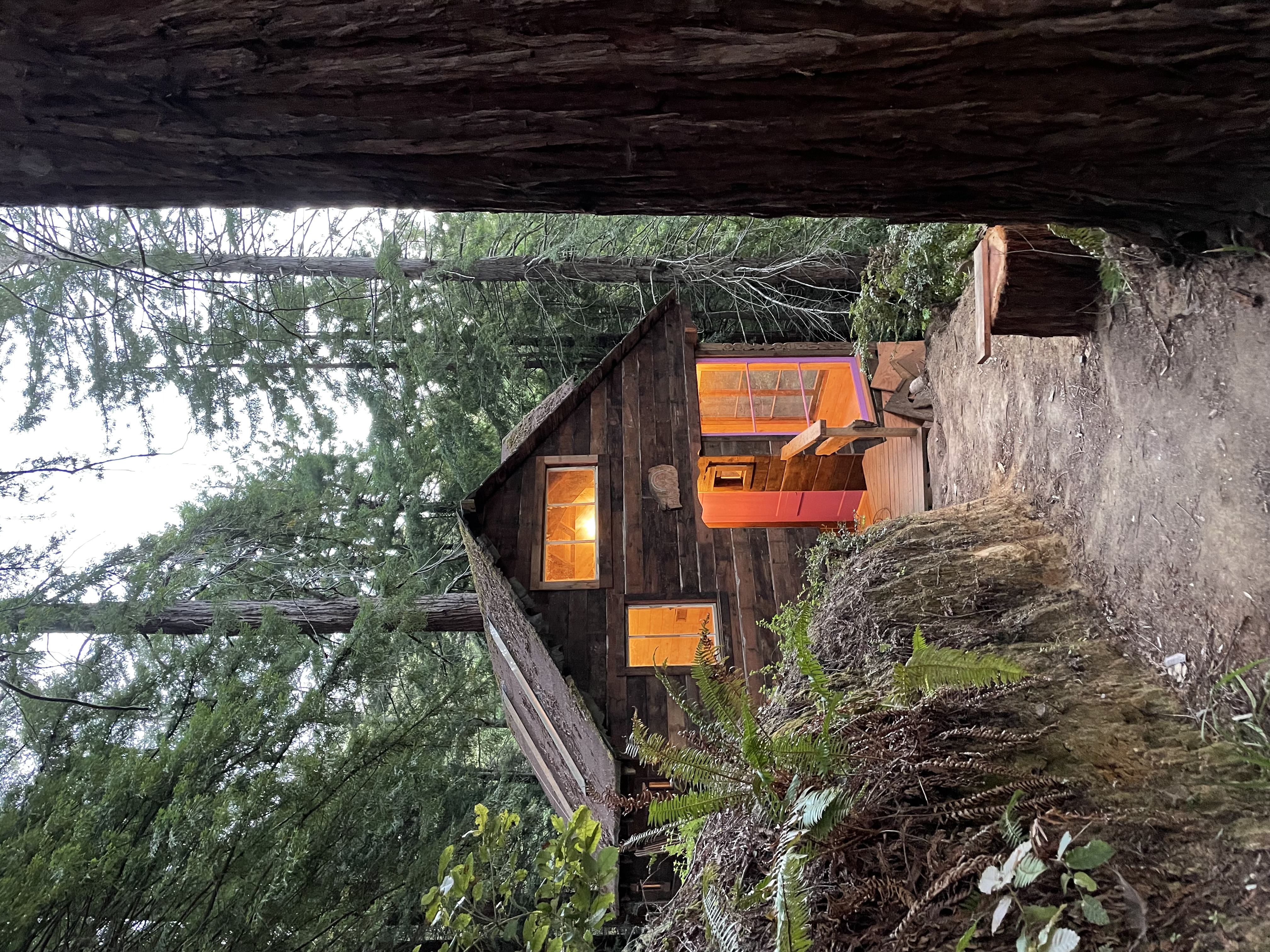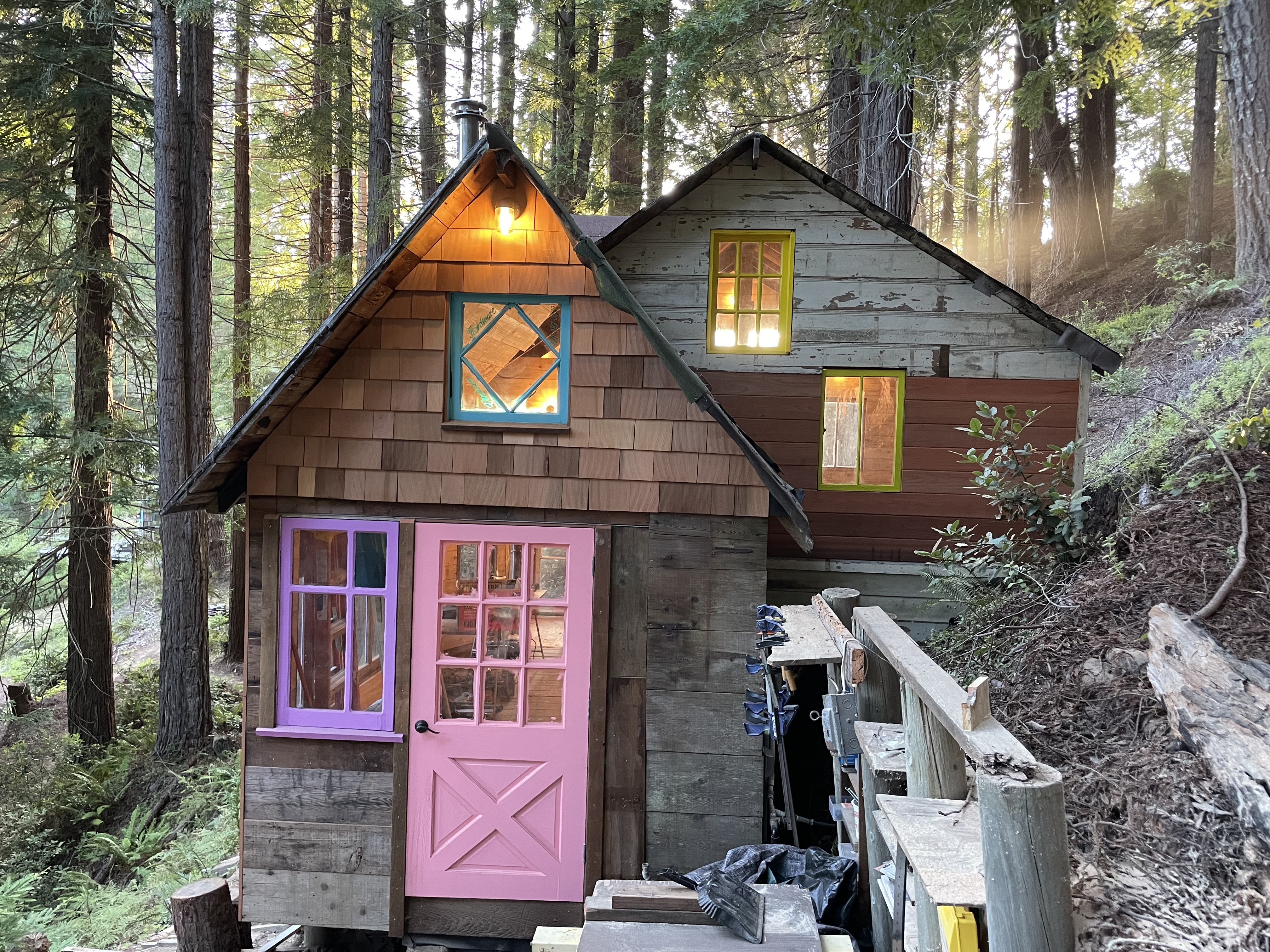 Built in 1972 by Leona Walden and 1975 addition by Dawn Hofberg, later used our communal cabin.
Capacity: one to four.
Three beds: one full size alcove bed upstairs under a skylight in a private bedroom and two beds (queen and full) in an open upper level lounge.
Features: welcoming front porch and vestibule, large south-facing wood deck, full size kitchen and communal dining room on main level (can host the whole commune!), back middle level used as screening room/theater with stage and steps for seating, new wood stove, full size refrigerator, oven/range, open-air shower facing the woods out the back door.
Sunny and open location at the top of the hill overlooking the view across the valley. (
recent pics
)